Ahmedabad:
Highlights
Neither Congress nor BJP have announced candidates for Gujarat
PM Modi and BJP chief Amit Shah met Thursday night to discuss candidates
Gujarat has 182 seats, BJP to announce 150 contenders in next 2 days
By 2 pm on Thursday, Bhushan Bhatt has clocked several hours at the BJP office in Ahmedabad, hoping for good news. Mr Bhatt is the incumbent lawmaker from one of the city's 182 constituencies. He is still not sure if the party will give him a chance to run again.
Sources in the BJP, which has governed Gujarat for 22 years in a row, say that it plans to drop 35 of its 121 MLAs; among those who may be axed are six ministers, reportedly.
That's why Mr Bhatt is sweating it.
"If the party directs me, I will go all guns blazing; if it says no, I will still work like a dedicated party worker," he claimed, as all aspiring candidates are known to do.
Just days to go for candidates to start the contest by filing their papers, neither the BJP nor the Congress has disclosed even a first cut of contenders.
Prime Minister Narendra Modi and his closest aide, BJP chief Amit Shah, held a lengthy meeting Wednesday night in Delhi to
discuss candidates for next month's election
. Sources said 150 candidates are likely to be announced within the next two days.
"Discussions have taken place, list will be out at the appropriate time," said union minister JP Nadda.
For the BJP, a victory isn't enough. Mr Shah has said 150 of a total of 182 seats is what his party must acquire in honour of the PM, who led the state for three terms before getting the country's top job. The Gujarat election is the first test of the new national sales tax or GST; the clumsy roll out in July included complex multi-rate tax slabs and required elaborate and confusing returns to be filed. Many of the kinks have been ironed out - 178 items were moved out recently from the highest tax slab of 28%, seen partly as an attempt by the government to win back traders who were upset in Gujarat with the tax.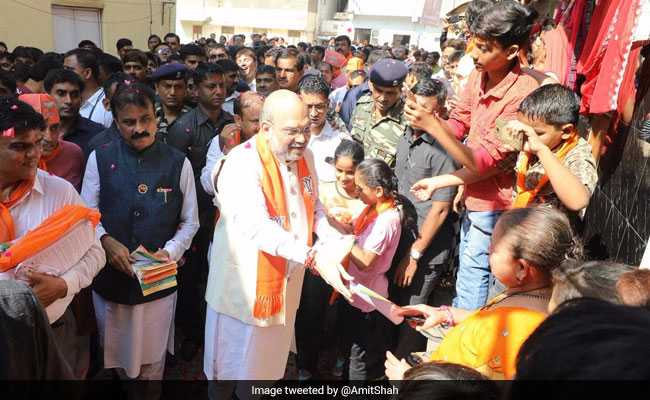 Though the Goods and Services Tax or GST has been praised as a sound structural reform, its introduction while the country was still recovering from the shock move to ban high-value notes a year ago, contributed to an economic lull with the last quarter registering as the weakest in three years with a growth rate of 5.7%.
Then there's the fact that the Congress, long the bridesmaid in Gujarat, is showing a new aggression in its campaign, bold-facing the economic problems and repeatedly making the point that there's a growing scarcity of jobs.
Three young caste leaders in Gujarat have hitched their wagons to the Congress. Among them is
Hardik Patel
, the 24-year-old leader of the Patidar community. He has accused the BJP of betraying decades of support by the Patidars by not extending affirmative action policies to them. The Patidars form about 14% of the population in Gujarat, but their traditional prosperity allowed them disproportionate influence. A third of the BJP's MLAs are Patels; the current government has nine Patel ministers.
Sources say that in an attempt to cancel out Hardik Patel's appeal to the community to vote for the Congress, the BJP is keen on selecting new and young Patidar candidates particularly in Saurashtra where Hardik Patel holds particular sway.
The Congress is not short of math to do either. Hardik Patel wants a chunk of seats for his caste with a say in deciding who gets them; so does
Alpesh Thakore
, the young leader of OBCs or Other Backward Castes who recently joined the Congress. It's all good, the Congress insists. "There is no pressure from Alpesh Thakore or Hardik Patel for tickets. They have just given their suggestions and based on the winnability factor, a decision will be taken," said Manish Doshi, a Congress spokesman.
The party had earlier assured all its 57 legislators that they would all have the chance to run again. 14 of them have quit the party since then. Despite that, the divvying up is proving complicated.
It appears that the BJP will beat the Congress to announcing candidates. Voting is scheduled for December 8 and 14. Results will be known on December 18.
Follow NDTV for latest election news and live coverage of assembly elections 2019 in Maharashtra and Haryana.
Subscribe to our YouTube channel, like us on Facebook or follow us on Twitter and Instagram for latest news and live news updates.