London:
Highlights
"Criticism makes democracy strong": Prime Minister Narendra Modi
PM Modi drew a distinction between criticism and allegation
PM Modi was speaking at an event addressing Indian diaspora in the UK
Prime Minister Narendra Modi
, who has been increasingly targeted by the Congress, particularly its president Rahul Gandhi, appeared to deliver a sharp comeback to his political rivals. PM Modi said he was
fine with criticism
and even welcomed it, but underlined that criticism was different from allegations levelled without any basis.
The Prime Minister also explained why he remained silent in face of
relentless criticism back home
.
"In a democracy if there is opposition but no criticism, then how can it be called a democracy.... I want this Government to be criticised. Criticism makes democracy strong," PM Modi said during a slickly-produced diaspora event '
Bharat Ki Baat, Sabke Saath
' at the packed Central Hall Westminster.
But he drew a distinction between criticism and allegation.
PM Modi said his problem wasn't criticism which required a person to research and ascertain the facts to make a point. But it was too much hard work and many people did not invest as much.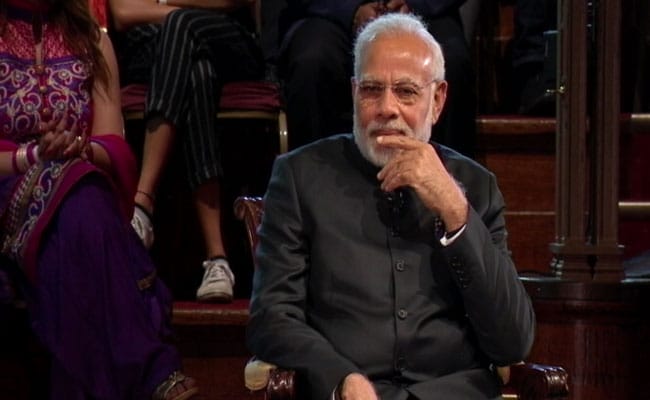 "What happens instead is allegations," PM Modi said at the event where he also broached the topic of crimes against women and asked parties not to politicise the heart-wrenching incidents.
PM Modi called criticism a "goldmine" that helped him improve himself and correct his mistakes.
But why doesn't he respond to the criticism, asked Prasoon Joshi, the adman-lyricist.
Mr Joshi, who was last year appointed to head the government's censor board for movies, was moderating the session which saw selected individuals in India and abroad to ask questions. During the 130-minute interaction, PM Modi addressed the Indian community on a range of issues ranging from surgical strikes to toilets to how he thinks his government's performance should be evaluated.
PM Modi acknowledged that there was a charge that he didn't speak up despite "so much criticism".
This, he said, happened because he gave the criticism much importance, trying to understand where the criticism was coming from and then rectify his mistakes.
"But it is not my job is to shut up people who are criticising me, my job is to think where am I going wrong," he said, underscoring that he was human, and like everyone else, made mistakes. It was his government's intentions, he said, which were beyond reproach.
The explanation comes just a day after PM Modi's predecessor Dr Manmohan Singh advised him to speak more, an irony considering how Narendra Modi would mock the noted economist for his silence in public and derisively called him "Maun' Mohan Singh".
Dr Manmohan Singh
told the Indian Express
on Tuesday that he had the same advice for PM Modi. "I think the Prime Minister should follow his own advice to me and he should speak more often," he said.
Other Congress leaders such as Rahul Gandhi have turned PM Modi's silence on charges of
corruption and nepotism
that the opposition levels at him into campaign material for elections. Mr Gandhi has on numerous occasions attacked the prime minister for his silence on celebrity designer Nirav Modi wanted in fraud cases slipping out of the country and the Rafale deal.
Get Breaking news, live coverage, and Latest News from India and around the world on NDTV.com. Catch all the Live TV action on NDTV 24x7 and NDTV India. Like us on Facebook or follow us on Twitter and Instagram for latest news and live news updates.