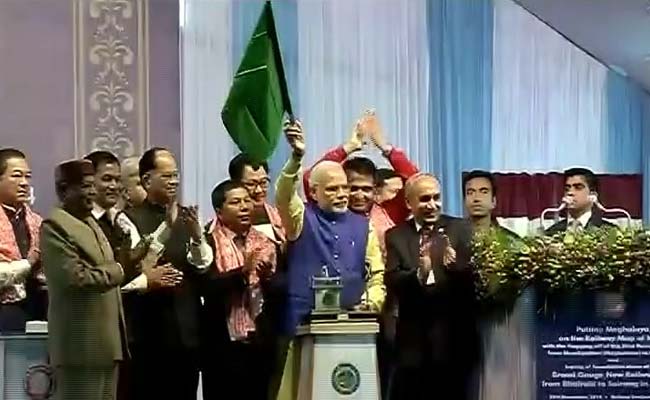 Guwahati:
Meghalaya today came on the country's rail map more than six decades after Independence, with Prime Minister Narendra Modi flagging off the first train to the northeastern state and favouring privatisation of railway stations.
"Railway facilities are the same as they were 100 years back... privatise the railway stations and modernise them," he said after flagging off the first train from Guwahati in Assam to from Mendipathar in Meghalaya.
"I will make it in 10-12 places. Stations should be better than airports as most travellers are poor people. We can easily have trains running below and commercial properties above (floor)," Mr Modi said.
At a time when real estate is very expensive, railway should leverage its properties by allowing private parties to build luxury hotels, restaurants and other facilities, he added.
He said once this exercise is completed in these places, the government will carry out modernisation of stations across the country.
The Prime Minister today inaugurated the Mendipathar-Guwahati passenger train and laid the foundation stone of broad gauge conversion of Bhairabi-Sairang line in Mizoram.