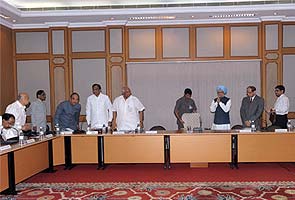 New Delhi:
The Prime Minister is meeting this morning with his new Council of Ministers.
On Sunday, 22 new ministers were sworn in, and the Cabinet saw a major reshuffle, which the PM described as "hopefully the last" before the general elections in 2014.
"The UPA government's fundamental objective is inclusive growth," Dr Manmohan Singh said at today's meeting. (
Full text of PM's speech
)
He cautioned, "We should take justifiable pride in our successes, but it is important to recognise that we are now facing fallout of difficult conditions. One area that is at the top of our agenda and will require particular attention and effort at all levels across government is infrastructure."
The government has to defeat the perception of policy paralysis, and corruption within, for which it has been criticised extensively at home and at abroad.
Elections in states like Gujarat and Karnataka will allow the government and the Opposition to test their strategy ahead of the big 2014 general election.