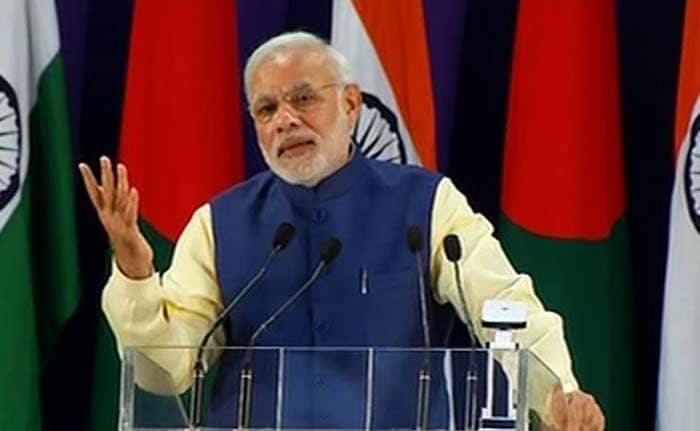 DHAKA:
The Land Boundary Agreement between India and Bangladesh is not just about realignment of land, it is about a meeting of hearts, Prime Minister Narendra Modi told a huge gathering of Indian diaspora at the Bangladesh's Dhaka University today.
"If you think the Land Boundary Agreement is about a few sq feet of land going this side and that side, then think again. It is a bridge between two nations... a meeting of hearts," he said. "Had such a thing been done elsewhere, it would have been worthy of a Nobel Prize. But we are poor countries, so no one notices such things," he added to thunderous applause.
The Prime Minister's address to the expats was his last official engagement of the two-day tour.
Making his initial comments in Bengali -- "Bhai bonera kemon achen (My brothers and sisters, how are you)" - he proceeded to underscore the ties between two countries, which, he said, had been literally forged with blood, shed during Bangladesh's Muktiyudh, the war of Independence.
The land boundary agreement, he said, was another link in the chain.
The agreement was formally signed between the two countries 41 years after it was endorsed. Under the deal, the two countries will swap 161 tiny enclaves, whose 50,000-odd inhabitants have been deprived of not only of nationality, but also of public services.
The Prime Minister also raised the other long-pending pact - the Teesta water sharing, which had not been discussed during this visit. Water sharing is a delicate issue in North Bengal, which the livelihood of many depend on the Teesta waters.
The Prime Minister, however, said, "a bird, air and water cannot be kept shut... water cannot be a political issue. I assure you, we will find a resolution to Teesta water issue on human principles."