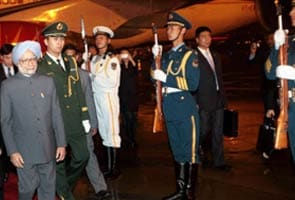 Beijing:
Prime Minister Manmohan Singh has begun talks with his Chinese counterpart premier Li Keqiang on his visit to Beijing. The two countries are expected to sign a deal on border cooperation, but there are indications that New Delhi has put the proposed visa liberalisation agreement on hold because of the stapled visa issue.
The Chinese embassy in Delhi had recently issued stapled visas to two athletes from Arunachal Pradesh. China issues stapled visas to Arunachal residents as it stakes claim to the Indian state, describing it as south Tibet.
India rejects this claim and the Chinese move so close to the PM's Beijing visit put New Delhi in an awkward spot. "The decision (to issue stapled visas) was silly and illogical," an Indian government official said, adding, "We will not let someone from Arunachal be treated differently. We have therefore decided to defer the decision (to liberalise visa) for a while. Let the Chinese sweat a little."
But both countries are clear that contentious issues will not be allowed to impede "the progress in our overall relationship - incremental, but moving in the right direction," said sources travelling with the Prime Minister.
It demonstrates the complex and difficult relationship that India and China share, described sometimes as "not black and white." Officials say it has areas of cooperation and areas of competition and managing it is a "complex affair."
So while the visa issue might hang fire, the neighbours are expected to sign the Border Defence Cooperation Agreement or BDCA, which proposes to improve upon existing mechanisms between the two sides to maintain peace at the border.
Under the agreement, a couple of more places for local commanders of both sides to meet along the border are likely to be opened so that day-to-day disputes or differences at the local level can be sorted out quickly. Right now India and China hold border personnel meetings and flag meetings at Bumla (Arunachal Pradesh), Nathula (Sikkim) and Chushul (in Ladakh).
Chinese troops had entered 19 km inside what India considers its own territory in the Depsang plains of Ladakh in April this year and camped there for three weeks before withdrawing. But sources say this incident apart, the India-China Line of Actual Control (LAC) is one of the most peaceful borders in the world.
"We restored status quo in Depsang this April with minimum official fuss and within three weeks as compared to Wangdung (a similar incident in Arunachal Pradesh) in 1986, which took seven years to resolve. With the BDCA we want to achieve a new equilibrium on our border," an official said.