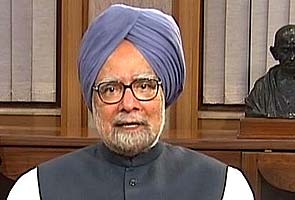 New Delhi:
In a televised address to the nation on Friday night, the Prime Minister justified the new economic reforms that have hurtled his government into a minority. "The time has come for hard decisions. For this I need your trust, your understanding, and your cooperation," he said on a day when the markets hit a 14-month high. (
Read: Markets hit 14-month highs on reforms push
)
"
Money doesn't grow on trees
," he said, defending the decision to increase diesel prices and cap the supply of subsidised cooking gas to households. Reforms like opening up the retail sector to foreign investment, he said, are vital for reversing the economic slowdown and creating jobs. Targeting the opposition, which has said FDI in multi-brand retail will wipe out small store owners, he urged the country not to be misled "by those who want to confuse you by spreading fear and false information. He also referred pointedly to his track record as FinanceMinister and the reforms he initiated during the economic crisis of 1991. (
Read PM's full speech here
)
His speech was broadcast hours after Mamata Banerjee and her party, the Trinamool Congress, pulled out over the government's decisions to increase diesel prices, cap the supply of subsidised cooking gas to households, and allow foreign mega-stores like Wal-Mart to arrive in India. In a thinly-veiled reference to Ms Banerjee, Dr Singh pointed out that state governments can decide not to allow foreign investment in retail. "But one state should not stop another state from seeking a better life for its farmers, for its youth and for its consumers," he said. (
Highlights of PM's speech
)
As expected, he expounded on the need to rein in fuel subsidies by increasing diesel prices. Last year's bill was 1.40 lakh crores, he said, and that would shoot up to 2 lakh crores this year without intervention. On the cap of six subsidised LPG cylinders per household, he said more than half of India uses less than that quota every year and that poor families would not be affected.
Dr Singh's reasons have been rejected by Ms Banerjee, whose six ministers met the PM on Friday evening to resign, and then carried onto Rashtrapati Bhawan where they formally notified the President that their party has withdrawn its support to the UPA. Ms Banerjee, also took a dig at the PM's speech on Facebook on Friday night. "I want to ask - what is the definition of aam aadmi? What is the definition of democracy? Is it not becoming clear that use of the name of aam aadmi, and misuse of power of chair, is to finish Aam Aadmi? Is it the game plan?" she wrote on her Facebook page. (
How do you rate the PM's speech on economic reforms?
)
Even the opposition concedes that the government is not in any imminent danger after Ms Banerjee's exit because regional heavyweights Mulayam Singh Yadav and Mayawati will continue to lend external support despite differences over the Prime Minister's new reforms agenda. "Unfortunately, the government will use its survival as an endorsement of its policies," said Left leader Sitaram Yechury. (
Left, BJP slam PM's speech: Who said what
)
Senior ministers have pointed out that between them, Mr Yadav and Mayawati contribute 43 MPs, taking the UPA safely past the 272 votes it needs to remain in power. A vote of confidence, they said, is therefore not required. But V Narayansamy, Minister of State in the PM's Office, conceded that in the new scenario "We have to see which are the reforms which we can implement without much difficulty." Mr Yadav is opposed to FDI in retail, as well as the raise in diesel prices; his stand on other reforms will be shaped by his vote bank in his home state of Uttar Pradesh, which is likely to position him against the centre. His Samajwadi Party was voted into power in Uttar Pradesh earlier this year, a victory enabled by his son, Akhilesh, who is now chief minister. Mr Yadav's support at the centre will come with strings attached - his son's government has been soliciting large financial packages and concessions from the UPA.
New reforms cleared on Friday included slashing a tax on overseas borrowing by Indian firms and implementing a scheme to encourage individuals to invest in the stock market. The government also hopes to allow more foreign investment in the insurance sector and reduce sugar subsidies for the poor - the price of sugar available under the Public Distribution System or PDS could go up by Rs. 3. That may not go down well with allies like Mr Yadav and the DMK, who have objected to last week's increase in diesel prices and the cap on subsidised cooking gas for households.
Dealing with Mayawati for now will be less complicated. After her humiliating defeat by Mr Yadav's party in the Uttar Pradesh elections, she needs time to rebuild her support base, and will therefore help bolster the UPA to avoid early elections.