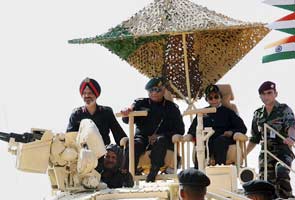 Barmer, Rajasthan:
Pratibha Patil Monday became the first Indian president to ride in a battle tank when she boarded a T-90 in the desert terrain of Rajasthan to witness an army war game underway here.
The nearly 500-meter tank ride lasted for about 15 minutes.
Earlier, president flew in an Indian Air Force VIP jet from New Delhi to the Utarli airbase near here. She was then taken in a Mi-17 transport helicopter near the venue before riding in the tank.
In 2009, Patil had become the first Indian woman head of a state to fly in a frontline Sukhoi-30 MKI fighter jet aircraft from an IAF base in Pune.
Patil was the second Indian president to fly in a fighter aircraft after APJ Abdul Kalam in 2006.