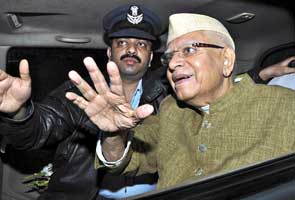 New Delhi:
Congress leader ND Tiwari was on Monday asked by the Delhi High Court to appear before it in person on May 26 to give a blood sample for a DNA test to decide the paternity suit of a man claiming to be his son.
"Defendent number 1 (Tiwari) is directed to appear on May 26 at 12 noon along with his two photographs," Joint Registrar of Delhi High Court, Deepak Garg, said, adding that the court should not rush to take police assistance for enforcing its order.
Eighty six-year-old Tiwari "be given an opportunity to voluntarily comply with the order," Mr Garg said and asked the medical chief of the dispensary, located inside the high court premises, to appoint a doctor for collecting the blood sample on May 26, the next date of hearing.
The court's direction came after it was informed that the requisite DNA kit has been received by the high court registry from Hyderabad-based lab Centre for DNA Fingerprinting and Diagnostics (CDFD).
Justice Reva Khetrapal of the high court had on May 16 ordered its registrar to take police assistance for bringing the defiant veteran Congress leader here for taking his blood sample to decide the paternity suit.
Justice Khetrapal had come down heavily on the counsel representing the Dehradun-based Congress leader, after he sought adjournment of hearing on the ground that a petition has been filed in the Supreme Court on the issue.
The court had said that considering the age of Mr Tiwari, the order of taking the blood sample is required to be implemented "as expeditiously as possible otherwise an irreparable loss is bound to visit the plaintiff".
The court's directions came on the plea of 32-year-old Rohit Shekhar seeking to compel Mr Tiwari to furnish his blood sample at the earliest to decide the four-year-old paternity suit. He has sought a judicial declaration that Mr Tiwari is his biological father.