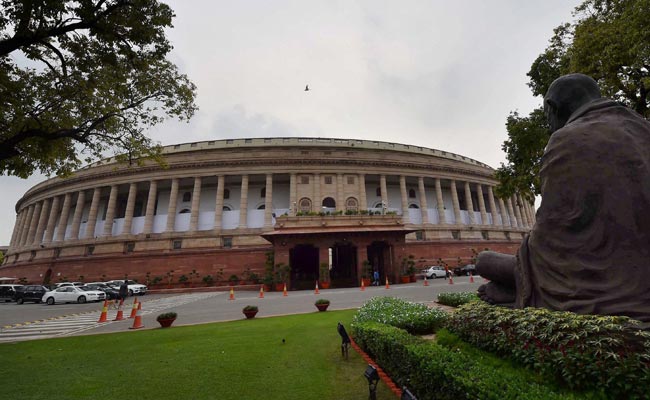 New Delhi:
The Finance Bill was cleared with 45 amendments by the Lok Sabha as Opposition protests continued to disrupt the Budget Session today. The Lower House then adjourned for the day while the Rajya Sabha is set to resume at 2:30 pm today. The Opposition MPs have been protesting in the Parliament over the Adani row. Today marks the ninth day of proceedings of the second leg of the Budget Session, which resumed last week.
Here are the LIVE updates on Parliament:
Get NDTV UpdatesTurn on notifications to receive alerts as this story develops.
Rahul Gandhi No Longer An MP After Jail Sentence In 'Modi Surname' Case
In a huge setback for the Congress party, its former president Rahul Gandhi has been disqualified from the Lok Sabha because of his conviction in a 2019 criminal defamation case.
Finance Bill Passed, Lok Sabha Adjourned For The Day
The Lok Sabha today passed the Finance Bill, 2023 with over 45 amendments amid sloganeering by Opposition members. The Lok Sabha has been adjourned for the day.
Government Proposes New Panel To Look Into Issue Of Pensions
"I propose to set up a committee under the Finance Secretary to look into the issue of pensions and evolve an approach which addresses needs of employees while maintaining fiscal prudence to protect common citizens," says Nirmala Sitharaman in Lok Sabha.
Lok Sabha Resumes After Brief Adjournment, Chaos Continues
Opposition members continued raising slogans and showing banners as the Lok Sabha resumed at noon. The Congress members are demanding Rahul Gandhi to be allowed to speak in the Lok Sabha. They are also demanding a probe by a Joint Parliamentary Committee into the Adani row.
Parliament Adjourned Till Noon, Rahul Gandhi Leaves Parliament
The Lok Sabha was adjourned till noon while the Rajya Sabha was adjourned till 2:30 pm amid protests over Congress leader Rahul Gandhi's London remarks and the Adani row. Mr Gandhi, who reached the Parliament this morning a day after his convicted in a defamation case, left after the Lok Sabha was adjourned.
Rahul Gandhi Arrives At Parliament Day After Conviction In Defamation Case
Congress leader Rahul Gandhi arrived in the Parliament this morning, a day after a Gujarat court convicted him in a defamation case.
Opposition Strategy Meeting In Mallikarjun Kharge's Office
Several Opposition leaders attended a strategy meeting in Leader of Opposition in Rajya Sabha, Mallikarjun Kharge's office in the Parliament this morning. These included leaders from the Congress, DMK, National Conference, RSP, VCK, Janata Dal (United), CPM, Samajwadi Party, Shiv Sena (Uddhav Thackeray), AAP, CPI, and IUML.