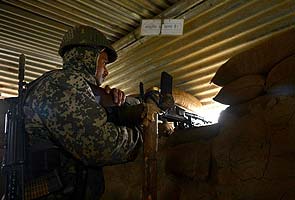 Poonch:
A suspected Pakistani intruder died near an Indian Army post in the Saujian sector of Poonch in Jammu and Kashmir today, when an improvised explosive device or IED that he was carrying blew up.
The Indian Army has said that it spotted the man and shot at him. Due to firing, the IED being carried by the intruder exploded, killing him on the spot, a defence spokesman said.
A search operation was carried in the forest area later and the body of the intruder was recovered, the defence official added.
Last week, Army troops had foiled an infiltration bid along the LoC in Rajouri district of the state. Northern Army Commander Lt General K T Parnaik, who retired on the weekend, had earlier raised concern over reported presence of terrorists at the high altitude belt of Sabzian along the LoC in Poonch.
Nine men, suspected to be from the Pakistan army, had allegedly intercepted porters from the Border Security Force in Sabzian belt on May 14 and snatched supplies from them after an attack.