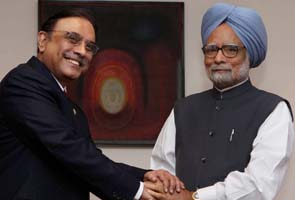 Islamabad:
President Asif Zardari has said that the revival of bilateral cricket ties with India will help improve people to people level contacts between the two countries. This he said in his letter addressed to the Indian Prime Minister Manmohan Singh. The letter has been sent through Pakistan High Commission in India.
Following is the text of President's letter to the Indian Prime Minister:
Excellency,
You would recall that in my recent visit to India, we discussed resumption of cricket ties between Pakistan and India.
I am glad to learn that the Cricket Boards of Pakistan and India have agreed to resume cricket matches after a gap of five years. I am sanguine that cricket matches between our two countries would prove to be a formidable confidence building measure and a way forward towards encouraging people-to-people contacts. Undoubtedly, it would add to the positive atmosphere which has been witnessed by the two countries after resumption of the bilateral dialogue.
I avail this opportunity to convey my best wishes to Your Excellency's health and for the well being of the people of India.
Please accept, Excellency, the assurance of my highest consideration.
(Asif Ali Zardari)