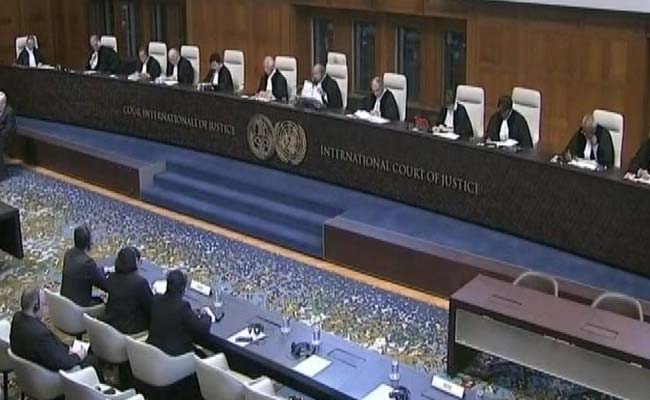 NEW DELHI:
In the face of criticism back home for its handling of India's appeal at the United Nations court, Pakistan has asked the International Court of Justice to hold early hearings in the case of Indian national Kulbhushan Jadhav sentenced to death last month for espionage, a Pakistan newspaper has reported.
The world court had last week ordered Islamabad to stay Mr Jadhav's execution pending a decision on India's request. This was an interim ruling, aimed at ensuring that the 47-year-old former naval officer wasn't executed before the case before the international court was decided. New Delhi had earlier this month approached the court against Mr Jadhav's death sentence handed out after what India called a "farcical trial" by Pakistan's military court.
Mr Jadhav, who had started a business after a career in the Navy, was in Iran in connection with his business when he had gone missing in March 2016. He, according to the government, surfaced in custody of Pakistan security agencies in Baluchistan from where he was formally arrested, accused of being a spy.
Back in Islamabad, the Nawaz Sharif government had been facing brickbats from the opposition for its inability to convince the international court at The Hague in Netherlands. Last week the Prime Minister's Adviser on Foreign Affairs Sartaj Aziz vowed to take the case to its logical conclusion.
Mr Aziz has insisted that the world court does not have the jurisdiction to hear the case since Islamabad had, in view of the Jadhav case, barred the court from hearing any case that impinges on Pakistani "national security". The court had rejected this view in its preliminary decision.
On Tuesday, The Express Tribune, cited sources in Pakistan's Foreign Office, reported that the government has sent a letter to the international court's registrar to request a quick hearing, preferably over the next few weeks.
But before the hearings begin, Pakistan will have nominate an ad-hoc judge to international court. India already has a judge, Justice Dalveer Bhandari on the bench since 2012.
When the hearings at the UN court begin, Pakistani media reports have suggested that the government would also send Attorney-General Ashtar Ausaf Ali to face the Indian team led by former solicitor general Harish Salve.
The Express Tribune report also an unnamed official in the attorney-general's office as saying that Pakistan was in no hurry to execute Mr Jadhav. On Monday, the provincial assembly of Khyber Pakhtunkhwa, earlier known as the North-West Frontier Province that has Peshawar as its capital, passed a resolution calling for Mr Jadhav's immediate execution.