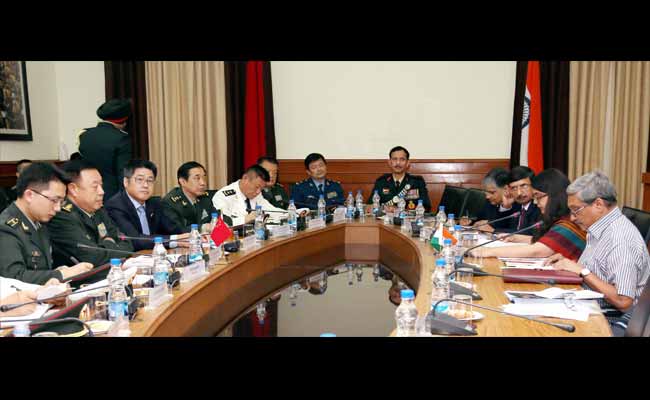 New Delhi:
Describing Pakistan as a "victim" of terrorism, China said on Tuesday that it will continue to support Pakistan in the fight against terror even as it called for greater counter-terrorism cooperation with India, including at the international level.
China also took on the United States, saying that it does not agree with interference of countries outside the South China Sea region in the ongoing dispute with its neighbouring countries.
"Pakistan is also a victim of terrorism. In the past few years, Pakistan has been fighting terrorism with a lot of casualties," Rear Admiral Guan Youfei, Director General, Foreign Affairs Office in China's Ministry of National Defence, said in New Delhi.
He was briefing reporters on the visit to New Delhi of a 26-member Chinese military delegation headed by General Fan Changlong, Vice-Chairman of China's powerful Central Military Commission (CMC), which met with Prime Minister Narendra Modi and Defence Minister Manohar Parrikar, among others.
Rear Admiral Guan said that Pakistan has in the recent past started a military operation to fight terrorism with "positive achievements".
Asked how China can talk about increasing cooperation in counter-terrorism efforts when its 'all-weather friend' (Pakistan) harbours and uses terrorists, he said, "China will continue to support Pakistan's efforts in fighting terrorism, especially in fighting the Eastern Turkistan Islamic Movement."
He added that the Chinese position on terrorism is that there should not be any "double standards". "This is something we need to look into," he said without explaining who he was referring to.
Asserting that China opposes terrorism in any form, he said that his country will work towards deepening counter-
terrorism cooperation with India. Meanwhile, talking about the disputed South China Sea, Guan said China's position has been consistent and clear in this regard.
"The South China Sea in essence is a dispute caused by different understanding and perception on the islands and reefs in the South China Sea," he said.
Rear Admiral Guan said that in disputes, China always stands for negotiations directly between states in the South China Sea region.
"China does not agree with the interference of countries outside the region in this issue," he added.
Asked about the increasing US presence in the region, he said China is glad to see the US playing positive role in the region but added that "while US pursues rebalancing to Asia Pacific, it intentionally highlighted the military agenda and has been taking up its military alliances.
"China expresses its concerns on this development," he said.