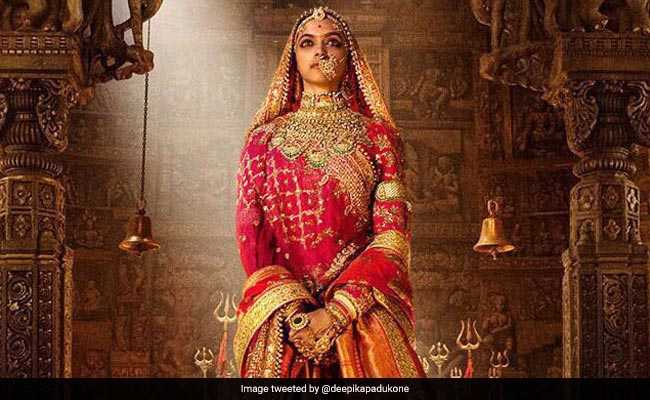 New Delhi:
The movie
"Padmaavat",
earlier named as "
Padmavati
", has been central to several controversies: protests by fringe Rajput groups, violent threats to actors and makers, modifications and name change by the Central Board of Film Certification (CBFC), imposition of ban by several states, among others. The mega-budget film faced a series of hurdles right from the beginning of its shoot to its release. The Supreme Court ruled that "
Padmaavat
" cannot be banned by the states on grounds of risk to public order. With the top court's ruling, director Sanjay-Leela Bhansali's
"Padmaavat"
starring Bollywood stars Deepika Padukone, Shahid Kapoor and Ranvir Singh is set to release on January 25, co-inciding with Akshay Kumar-starrer
"PadMan
".
Here is a timeline of hurdles "Padmaavat" passed to get screened in a theatre near you:

In January 2017, Karni Sena members barged onto the sets of "Padmavati", now "Padmaavat", disrupted the shooting and vandalised the property. Director Sanjay Leela Bhansali was slapped and his hair was pulled at Jaigarh Fort in Jaipur. Karni Sena members alleged that they have heard the film is distorting facts.

In March 2017, fringe elements vandalized Padmini Mahal in Rajasthan's Chittorgarh Fort and shattered the mirrors. They alleged that the mirrors in the fort were placed 50 years ago and it misrepresents queen Padmini's story. In another incident, the film set in Maharashtra's Kolhapur were torched by unidentified men and valuable property was damaged. Their reservation being that the film will depict a romantic dream sequence between Rani Padmavati and Allaudin Khilji.
After this development, a clarification was issued by Bhansali productions.
#SanjayLeelaBhansali clarification on #Padmavati@shahidkapoor@RanveerOfficial@deepikapadukone@ShobhaIyerSantpic.twitter.com/qHR6LXWf4q

- Raghuvendra Singh (@raghuvendras) March 27, 2017
In September 2017, first posters of "Padmavati" were released with announcement of film's release date as December 1. The Karni Sena, in a second round of protests, burnt posters of the film outside Rajmandir Cinema Hall in Jaipur. Narain Singh Divrala, the district president of Karni Sena demanded that "Padmavati" now "Padmaavat" must be shown to them before the release.

In October 2017, a rangoli inspired from Deepika's "Padmavati" poster made by a Surat-based artist was destroyed. It took him 48 hours to make. The artiste tweeted:
#padmavati Rangoli Controversy!
A crowd of 100 people cried JAY SRI RAM AND rubbed out my 48hrs' intense work! Shocked!@RanveerOfficialpic.twitter.com/0yWbE7Jqfa

- KARAN K. (@KARANK19522136) October 16, 2017
This incident also triggered a response from the lead actress of the film, Deepika Padukone. She tweeted:
absolutely heart breaking to see the recent attack on artist Karan and his artwork!disgusting and appalling to say the least! pic.twitter.com/Ot2Aki0MiA

- Deepika Padukone (@deepikapadukone) October 18, 2017
In November 2017, the Padmavati controversy took an ugly turn when Karni Sena threatened actor Deepika Padukone of physical harm. "Rajputs never raise a hand on women but if need be, we will do to Deepika what Lakshman did to Shurpanakha," said a leader of the group in a video released today, referring to the act of cutting the nose off. Ms Padukone was given high police security following the threat.

Sanjay Leela Bhansali released a video online clarifying that there was no romantic dream sequence between queen Padmini and Alauddin Khilji and Rajput pride and honour has been kept in mind while making the movie.

Dissenting voices kept emerging from Rajput groups objecting to the glorification of Alauddin Khilji's character and showing of Deepika Padukone's midriff in the song Ghoomar. Support, however, poured in from the film fraternity.

On November 17, "Padmaavati" now "Padmaavat" was sent back to filmmakers by the Central Board of Film Certification, saying that its application was "incomplete."

Later in the month, the vitriol over the film went up a notch as a BJP office bearer from Haryana Surajpal Amu said he would double the bounty on the heads of actor Deepika Padukone and filmmaker Sanjay Leela Bhansali to Rs 10 crore and also threatened to "break the legs" of Ranveer Singh, who plays the role of Alauddin Khilji in the film.


Protesters blocked entry to Chittorgarh, and later Kumbhalgarh Fort as the film inched towards release date on December 1. As protests intensified,
"Padmavati"
makers "voluntarily deferred" the film's release. The Supreme Court refused to stay the release of Padmavati, saying that CBFC is yet to clear the film and it will amount to 'prejudgement' if the release is stalled now.
In December, 2017,
the Censor Board sought the opinion of veteran historians, and also asked the erstwhile Mewar royal family to join a panel to help certify the film. Five modifications were suggested by the panel and the makers were asked to change the name of the film from "
Padmavati
" to "
Padmaavat
".
[PIC] #Padmaavat poster ft. disclaimers.
(Tfs @TeamDeepikaMY_) pic.twitter.com/eG1BKaKmIv

- Deepika Padukone FC (@DeepikaPFC) January 14, 2018
In January 2017,
the makers of
"Padmaavat"
announced the release date to be January 25 and released a poster with disclaimers. But the film was banned by Rajasthan, Gujarat, Haryana and Madhya Pradesh. Following this, the producers of "
Padmaavat
" moved the Supreme Court against the ban on film.
Bringing relief to the makers of the film, the Supreme Court judges on January 18 said, "A film may bomb at the box office or people may choose to not watch it, but states cannot use their machinery to prohibit its exhibition citing risk to public order". The court also restrained any other state from issuing similar notifications.
With this, the controversial movie "
Padmaavat
" is set to release on January 25 across India.