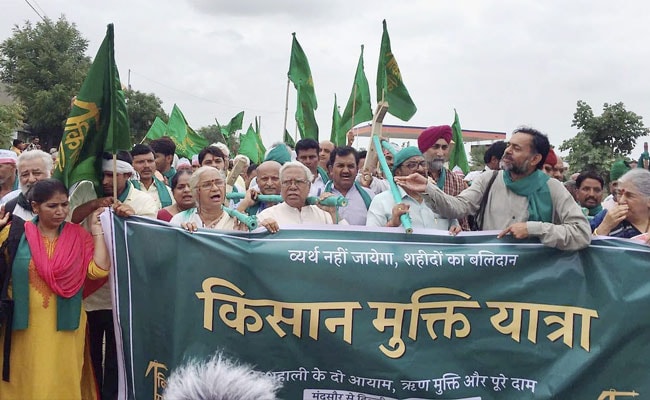 Bhopal:
Over three hundred people were arrested after a 'Kisan Mukti Yatra', taken out on Thursday to pay homage to the six protesting farmers killed in police firing in Madhya Pradesh's Mandsaur district, was halted by the police.
"The people involved in the Yatra have been arrested on the allegation of disrupting peace. Till now, as many as 300 persons have been arrested," Superintendent of Police Manoj Singh said.
Communist Party of India (Marxist) state unit chief Badal Saroj told IANS: "The Yatra, which began from Bhudha village, has been halted at Guddeli village. These people were going to Peepli Mandi where farmers were killed in police firing."
The marchers included Rashtriya Kisan Mazdoor Sangathan convenor V M Singh, Akhil Bharatiya Kisan Sabha General Secretary Hannan Mollah, CPI(M) leader Subhashini Ali, Swaraj India's Yogendra Yadav, social activist Medha Patkar, Swabhimani Shetkari Sanghathan's founder Raju Shetti, farmers and women.
The Yatra, which began under the leadership of the All India Kisan Sangharsh Coordination Committee, has representatives of more than 100 groups of farmers from all over the country. Their demands include loan waivers and fixing the maximum support price of the crop yield based on recommendations by the M S Swaminathan Committee.
"All of them have lifted ploughs on their shoulder while the farmers are waiving green flags," AIKSC state chief Jaswinder Singh said.
"From Madhya Pradesh, this Yatra will go through Maharashtra and Gujarat to reach New Delhi on July 18, where a tribute will be paid to the six farmers killed in Mandsaur," he added.
Tight security arrangements have been made for the Yatra and police forces have been deployed at many places.
The farmers' protests that started in the state on June 1 for better prices for their produce and debt relief, turned violent on June 6 when five farmers were killed in police firing in Mandsaur.
(This story has not been edited by NDTV staff and is auto-generated from a syndicated feed.)