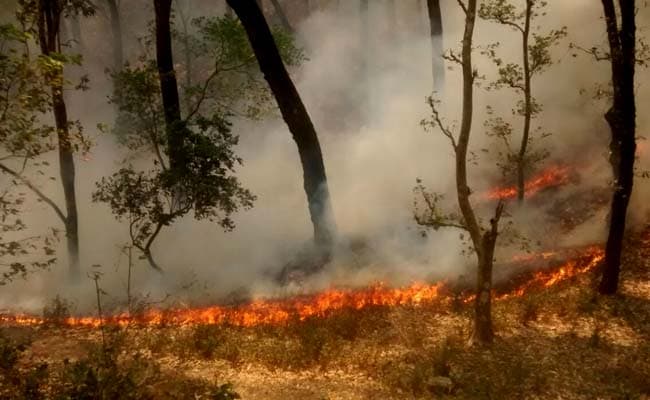 New Delhi:
The first four months of 2016 have witnessed over 20,000 incidents of forest fire compared to nearly 16,000 such cases entire last year, Rajya Sabha was told on Monday.
"Till April 21 this year, a total of 20,667 incidents of forest fires have taken place. In 2015, the total number of forest fire incidents were 15,937," Environment Minister Prakash Javadekar said in a written reply.
Mr Javadekar said the Centre has formulated a contingency plan for dealing with such crises.
The reply comes in the backdrop of raging fires in Uttarkahand forests which have destroyed 2,269 hectares of forested area across the state and claimed seven lives. Pauri, Nainital, Rudraprayag and Tehri are among the worst-hit districts.
He said that this year, 291 forest fires have occurred in Uttarakhand, 2,422 in Chhattisgarh and 2,349 in Odisha. Madhya Pradesh reported 2,238 forest fires this year against 294 such incidents last year.
Maharashtra reported 1,638 forest fires in 2016 while the figure stood at 1,719 for Assam. 1,416 fire forest incidents took place in Andhra Pradesh, the minister said quoting the figures of Forest Survey of India.
In 2014, 19,054 forest fire incidents were reported, while 18,451 forest fire incidents took place in 2013.
"Environment Ministry has formulated a contingency plan for dealing with forest fires which details the mechanism for coordination during the crisis situation of a major forest fire.
"The plan provides for crisis groups at the Centre, state and local levels which take appropriate action to mitigate any crisis arising out of forest fires," Mr Javadekar said.
He said that the government provides funds to states and union territories under the centrally-sponsored scheme 'Intensification of Forest Management Scheme' to supplement their efforts.
"Under the scheme, various activities such as creation and maintenance of fire lines, construction of watch towers, engagement of fire watchers, assistance to joint forest management committees...
"...construction of water storage structures, setting up of fire fighting cells, procurement of firefighting equipment, fire mapping, preparation of fire management plan and training and awareness are supported," Mr Javadekar said