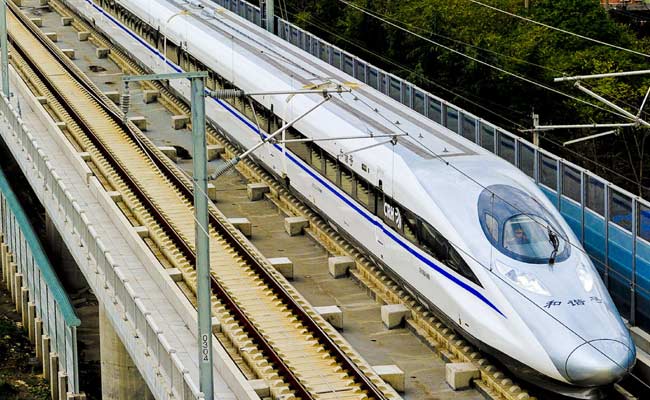 Mumbai:
The route of India's first bullet train - a project close to Prime Minister Narendra Modi's heart - is profitable and is packed to capacity even in off-season, Railways Minister Piyush Goyal said on Wednesday, contradicting his ministry's previous response to an RTI or Right to Information query.
"Contrary to media reports, Mumbai-Ahmedabad train section running at above 100% occupancy and will benefit immensely from bullet train," Mr Goyal tweeted.
A Western Railway official, Manjit Singh, had said in response to the RTI query that the route on which the bullet train is to debut in 2023 has been a
loss-making one
with over 40 per cent of the seats going empty between July and September and Rs 30 crore in losses.
The RTI was filed by activist Anil Galgali who wanted to know whether the project, launched at a cost of Rs 1.10 lakh crore, was viable on the route.
The Western Railway has now put out a clarification and called Mumbai-Ahmedabad "one of the busiest routes of Indian Railways".
Chief Public Relations Officer Ravinder Bhakar said that the Railways earned Rs 233 crore on the route in those three months. Information about traffic and passengers at various stations on the way had not been given, he said, so the RTI reply had reflected "lesser occupancy."
Mr Bhakar said despite July-September being a lean period, the occupancy "is still above 100%".
On nine direct trains, bookings showed 103 per cent occupancy, he said. Also, there was "115% booking" on the 25 trains passing through Ahmedabad and 121 per cent in the return route.
After the new Railways version, Mr Galgali questioned, "Why the huge discrepancy in the figures given by the WR Chief Commercial Manager under RTI and the WR spokesperson?"
PM Modi, along with Japanese Prime Minister Shinzo Abe, launched the bullet train project in September, calling it a "giant step in fulfilling a long cherished dream". Critics, including the opposition Congress, have called the plan impractical.