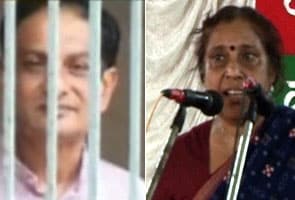 New Delhi:
The conviction of pediatrician and civil rights activist Binayak Sen has shocked social activists and senior advocates.
He was immediately taken back to jail after being given a life sentence by the Raipur Sessions Court that found him guilty of conspiracy and treason against the state and, specifically, guilty of carrying letters with seditious content between dreaded Naxal prisoner Narayan Sanyal and Kolkata-based businessman Piyush Guha, an alleged Maoist sympathiser.
Police say Sen was allegedly helping the Naxals set up an urban network.
Sen, an award winning paediatrician has been working in the forests of Chhattisgarh treating tribals for decades; his supporters now intend to approach the high court.
"The government didn't like him because they thought he was a man who raised a voice against their wrong policies. When I met Raman Singh and told him that there is a total intelligence failure and that news that Binayak is a Naxal leader and terrorist is false. It was up to him to believe me or the police. He took his decision and we are all facing the consequences of that, '' said Illina Sen, Dr. Binayak Sen's wife.
''The criminals are roaming at large, gang rapists are not punished, but Binayak Sen is given life sentence, '' Brinda Karat, leader CPI(M) leader politburo member.
Amnesty International says the court ruling violates international fair trial standards and is likely to spark tensions in the conflict-affected Chhattisgarh.
Sam Zarifi, Amnesty International's Asia-Pacific director, said, "Life in prison is an unusually harsh sentence for anyone, much less for an internationally recognized human rights defender who has never been charged with any act of violence. Sen was convicted under laws that are impermissibly vague and fall well short of international standards for criminal prosecution."
The organisation said the charges against Sen were politically motivated and should be dropped immediately.
It said, "Instead of persecuting Dr Sen, authorities in Chhattisgarh should be acting to protect the people of the region from the abuses committed by the Maoists, as well as state security forces and militias."
Writer activist Arundhati Roy, herself facing a case for making anti-India remarks, questioned just two years in jail for the bosses of Union Carbide and a life sentence for Binayak Sen.
"The evidence against him was Marx's Das Kapital and a letter from the Indian Social Institute. She said the crisis of Indian democracy does not get more dangerous than this."
Counter terrorism expert Ajai Sahni said, "Where is the crime? Where is the deterrence? This is a perversion of the investigative process and an index of the incompetence of the Chhattisgarh police."
Former Delhi High Court Chief Justice Justice Rajinder Sachar said, "It was scandalous to say that Dr. Sen was working against the interest of the country."