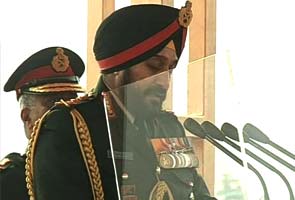 New Delhi:
The Indian Army is celebrating the 65th Army Day today and on the occasion, Army Chief General Bikram Singh present gallantry awards to valiant soldiers who exhibited exceptional courage and lost their lives in the line of duty.
Speaking on the occasion, General Singh said, "I am proud to say that the Indian Army has been able to fulfil the country's expectations. Our country has been facing both internal as well as external challenges and let me assure you, that the Indian Army is ready for all the challenges."
He also said that the Indian Army has received praise for upholding human values. "Our soldiers have been fulfilling their duties at the border areas by honouring the rules of engagement," General Singh said.
"In keeping with the various challenges, we have upheld the standards of the operation preparedness of the Army. We have stressed on infrastructure projects that will also benefit civilians. We have also stressed on the need to modernise the Army," the Army Chief said.
On January 15, 1948, Lt Gen KC Kariappa, who later became the Field Marshal, took over as the first Indian commander-in-chief of the Indian Army. Since then, the Army observes the day as the Indian Army Day.
Ninety one soldiers lost their lives in the line of duty last year. Two more - Lance Naik Sudhakar Singh and Hemraj - were killed on January 8 this year by the Pakistan Army regulars after infiltrating into Indian territory in Poonch sector of Jammu and Kashmir.