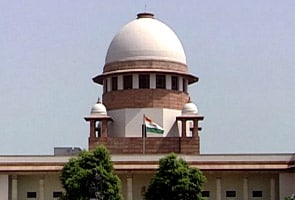 New Delhi:
The Supreme Court on Monday made it clear that the Central Bureau of Investigation (CBI) has to probe into the alleged misappropriation of the National Rural Employment Guarantee Act (NREGA) funds in Orissa.
The Centre had earlier told the Supreme Court that it is considering CBI probe into the issue but apparently had done little to address the Court's concern in last three months.
"We make it clear we are giving four weeks' time to decide. We make it clear if Centre doesn't decide we will step in", the Court said.
The court was hearing a Public Interest Litigation (PIL) filed in 2007 by an NGO Centre for Environment and Food Security alleging large-scale corruption in the implementation of the NREGA scheme. The petition had pointed out that while some states in the north-eastern and Andhra Pradesh have done a good job in implementing the rural employment scheme, the others are far behind.
On December 16 last year, while hearing the PIL, the Court had indicted both the Union and the state governments for their failure in properly executing the rural job guarantee scheme and had asked them to explain as to why a CBI probe into the fund embezzlement should not be ordered.
"We are constrained to observe that the Union of India as well as the State of Orissa, prima facie, have failed to effectively and purposefully implement the provisions of the Act," the bench had observed.
"This has resulted in the deprivation of the entitled class from getting employment and receiving the allowances due to them in terms of the statutory guarantees available to them under the Act," it had said.
(With PTI Inputs)