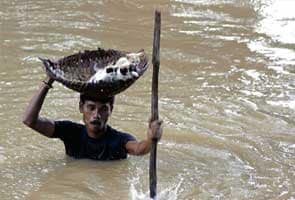 Bhubaneswar:
Flood's fury in Mahanadi and other rivers has wreaked havoc in Orissa submerging about 2,600 villages spread over 19 districts and leaving eight dead as the state government today stepped up relief and rescue operations for 11 lakh affected people.
The floods, which claimed eight lives and left three others missing so far, have snapped road communications at several places in Puri, Kendrapara, Cuttack, Jagatsinghpur, Sambalpur, Boudh and Sonepur districts, official sources said.
With low lying areas submerged by flood waters, about 61,000 people have been evacuated and sheltered in safe places as government intensified relief work for about 11 lakh people in 2,600 villages of 19 districts.
As 13.66 lakh cusec water flowed from the flooded Mahanadi through Mundali near Cuttack, a large number of breaches were created in the river system in the thickly populated delta region, sources said.
The situation is likely to improve by tomorrow as the water level at Hirakud dam fell to 628.41 feet following reduced inflow into the reservoir, water resources department secretary Suresh Mohapatra said.
With water flow into Hirakud reservoir dropping to 7.55 lakh cusec, 16 gates of the dam were closed leaving 43 open through which about 8.9 lakh cusec water was being discharged, a senior official said.
Though the volume of water flow in Mahanadi and other rivers has dropped, the situation is likely to remain critical for the next two days as it would be difficult for excess water to be released into the sea due to high tide on account of full moon tomorrow, Mohapatra said.
A naval ship from Vishakhapatnam with a helicopter and relief material is set to join the operation, while a chopper meant for anti-naxal drive was kept ready for air dropping of food and other essentials, Special Relief Commissioner (SRC) P K Mohapatra said.
Air dropping of food packets was necessary in areas cut off due to breaches in river banks and embankments and submergence by water, the SRC said.
As water level at several places including Naraj, Jobra, Alipingala and Daleighai remained above the danger mark, about 11,000 houses have so far been damaged due to floods, sources said.
As many as 152 relief camps with free kitchens have been opened in Angul, Balasore, Bargarh, Boudh, Cuttack, Jagatsinghpur, Jharsuguda, Mayurbhanj, Puri, Sambalpur and Subarnapur districts.
The state government has also requested the defence ministry to come to its rescue if the situation worsens, Mohapatra said, adding that 1,400 boats including 200 mechanised vessels were pressed into service.
The state government has also issued directions to district collectors to close schools in their respective areas in view of the situation.
About 500 weak points have been identified on river banks and embankments of which 28 are prone to breach.
Engineers and experts have been camping there to keep vigil, they said.
The situation is expected to stabilise tomorrow following respite from rainfall in upper catchment of river Mahanadi in Chhattisgarh.