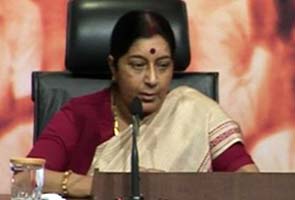 New Delhi:
BJP leader Sushma Swaraj announced a "total breakdown" of the relationship between her party and the government, and said the BJP will not attend any meetings called by Lok Sabha Speaker Meira Kumar or Parliamentary Affairs Minister Kamal Nath.
At a press conference, Ms Swaraj said that the MPs who interrupted her speech in the Lok Sabha this morning were incited by Congress president Sonia Gandhi, and that the Speaker of the House, Meira Kumar, did not intervene as she should have. "It is clear that only what Sonia Gandhi wants will happen in the House," Ms Swaraj said. (
Read: Highlights of what Ms Swaraj said
)
Ms Kumar is reportedly upset with the allegations, and has sought a clarification from Ms Swaraj.
"The Congress president does not care about Indian democracy and she does not believe in democratic institutions," Ms Swaraj charged. Congress spokesperson Renuka Chowdhury descried the comments "very unfortunate and uncharitable."
The BJP walked out of the Lok Sabha this afternoon after Ms Swaraj's speech was disrupted. She had just announced in the House that while her party would not impede the passing of four important finance bills, it would hereafter not support the government on any other issue. (
Read
)
Ms Swaraj said this soon after the Supreme Court strongly censured the CBI and the government over the investigation agency's report on coal investigations being vetted by Law Minister Ashwani Kumar and other government officials.
The BJP leader slammed the Congress-led UPA government as "the most corrupt Indian government ever." The Manmohan Singh government is short on numbers in Parliament and depends not only on the external support of parties like Mulayam Singh Yadav's Samajwadi Party and Mayawati's BSP, but also the opposition, to push important legislation.