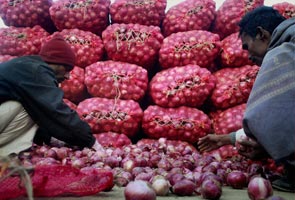 Nashik:
As onion prices came crashing down, business has stopped at the Lasalgaon market - the largest onion market in the country. Farmers and traders went on an indefinite strike demanding the ban on exports be lifted.
''The supply of onions is more than what the demand is. That is the reason the prices have fallen,'' said Santosh Suryavanshi, an onion trader.
From Nashik, the protests have spread to other onion-growing belts in Maharashtra as well. The farmers want Rs 1,500 per quintal for the crop to be profit-making for them. However, they are getting less than half - only Rs 600 per quintal.
''When onion prices were Rs 60 a kilo, the government immediately stopped exports. Now that prices are Rs 7 a kilo, the government should lift the ban,'' Sohanlal Bhandari of the Nasik District Onion Traders Association said.
After battling months of poor climate and poor quality crop, the farmers and traders are not ready to sell onions for cheap.
Sailesh Kotmire, Administrator, Pune Agriculture Market Committee added, ''They also want the ban on exports to be lifted immediately. A proposal has been sent to the Central Government and a decision will be taken in two days.''