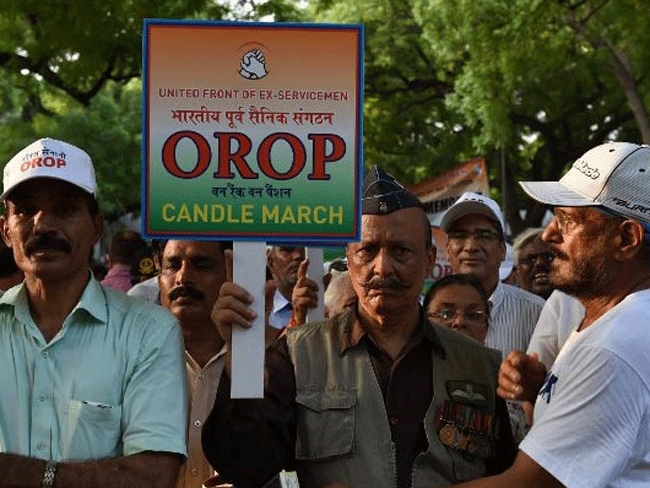 New Delhi:
With talks on One Rank One Pension or OROP breaking down again on Thursday night, upset veterans are boycotting celebrations to mark the 50th anniversary of India's successes in the 1965 war against Pakistan.
The golden jubilee celebrations began today with President Pranab Mukherjee paying tribute to martyrs at the war memorial Amar Jawan Jyoti, to mark India's capture of the Haji Pir Pass on August 28, 1965.
"As we mark the 50th anniversary of 1965 war, I bow to all brave soldiers who fought for our Motherland in the war," tweeted Prime Minister Narendra Modi.
There had been speculation that a date for implementing OROP could be announced today if an agreement was reached between the government and ex-servicemen.
Last night, the group of ex-servicemen negotiating with the government, walked out of a meeting that they had hoped would finally bring a breakthrough on their demand of two decades. They said they could not accept the government's new proposals on OROP.
The veterans will meet today to decide how to escalate their protest.
Wing commander (Retd) KS Parihar, who was a part of the team that won Haji Pir exactly 50 years ago, said on Thursday, "If it (OROP) doesn't come through tomorrow, I will join the strike instead of celebrating 50 years of the war."
"We deserve a better deal. Unfortunately it's not happened. The government should go ahead and announce it which will enable me to take part in the celebration which happens once in a lifetime," said Wing Commander (retd) Vinod Nebb, who was awarded India's third highest war time gallantry award, the Vir Chakra, for bringing down a Pakistani Sabre aircraft in the 1965 ops. He was 22 then.
Sources said, the government is unwilling to appear as buckling under the veteran's pressure to implement OROP. Defence Minister Manohar Parrikar said on Thursday that PM Modi would make an announcement "as and when time comes".
The government is said to be upset that more and more veterans are joining the hunger strike at Delhi's Jantar Mantar, which began after PM Modi failed to announce OROP in his Independence Day speech on August 15.
OROP will give equal pension to servicemen retiring with the same rank regardless of when they retire.