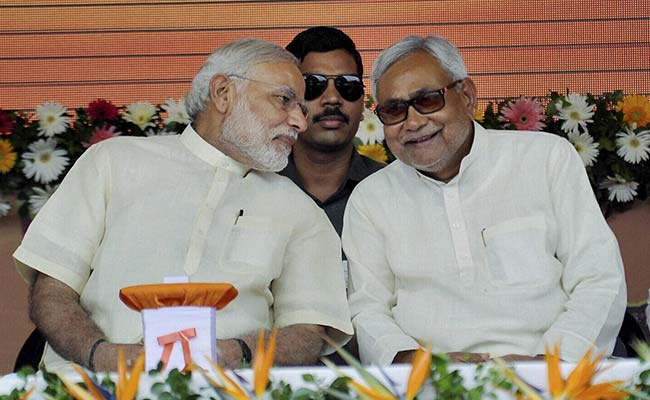 Highlights
PM Modi says after notes ban, will clean up real estate
Bihar Chief Minister had said this is essential
Nitish Kumar is a rare opposition supporter of notes ban
Prime Minister Narendra Modi today told his party that there will be no let-up in his mission to nail tax evaders : with high-denomination notes cancelled, he said his next crackdown will be on benami or proxy-owned property. When he outlawed 500- and 1,000-rupee notes at a few hours notice last month, PM Modi made it clear that he would try to clean up the murky world of real estate, a preferred choice for those looking to park black money.
Today's reassertion, made to BJP parliamentarians, places PM Narendra Modi once again on the same page as Bihar Chief Nitish Kumar, who is an alum of the national coalition led by the PM's party, the BJP. In 2013, Mr Kumar ended his party's nearly 20-year partnership with the BJP over Mr Modi being picked as its prime ministerial candidate. It is the PM's controversial demonetization drive that has seen them relinquishing their storied hostility.
Annoying his allies and discomfiting his party, the Bihar Chief Minister has said he "fully supports" demonetization and has the PM's back till the end of the year. Earlier this week, he said "The PM asked 'for just 50 days' to solve the cash crisis. Let us give him that. I am not one to give my support and cancel it in haste." Mr Kumar, who is using a tour of North Bihar to get feedback on the notes ban, has tinged his praise of the PM with reminders of the hardship caused after 86% of the notes in circulation were cancelled; he has also underscored that without an overhaul of real estate, demonetization risks being reduced to a stand-alone measure that will have limited, if any, impact.
For the steady shouldering he has provided at a time when nearly 15 opposition parties have constellated to fight the government over the notes ban, the Bihar Chief Minister has been publicly thanked by BJP President Amit Shah. The make-nice gestures between the two sides created such a huge political pop that Mr Kumar was called in to address a gathering of his ally's party to clarify that there was no reconciliation in the works with the BJP.
Yesterday, Mr Kumar's party reminded the PM that it's support has an expiry date. Senior leader Pawan Varma said, Now we have been seeing the kind of inconvenience that is being felt across the nation and after December 30, we are going to review the kind of impact of demonetization. Has it been worth the goal for which it was undertaken?"
With PM Modi's comments today, for now, the Bihar Chief Minister appears to have no reason to rethink his position.