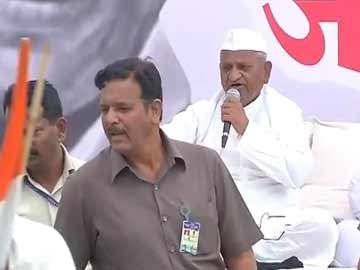 Ralegan Siddhi, Maharashtra:
On the fourth day of a hunger strike in Maharashtra, activist Anna Hazare angrily asked a leader of the Aam Aadmi Party (AAP) to leave his gathering today.
"It is his village, his wish will be respected," said Gopal Rai, who got into an argument with the former army chief, General VK Singh, and was then publicly told off by Anna.
Later, the former army chief questioned the AAP's funding, a point of friction in recent months between Anna and his one-time protege,
Arvind Kejriwal
, who heads the AAP.
Anna says he will not eat till Parliament clears the anti-corruption Lokpal Bill which creates a national ombudsman to investigate graft among elected representatives and bureaucrats.
The government introduced the Lokpal Bill in the Rajya Sabha today, but the House was adjourned till Monday on account of shouting law-makers from the Samajwadi Party, who are opposed to the legislation.
Two years ago, Anna and Mr Kejriwal galavnised India with their Lokpal movement. They parted ways a year ago when Mr Kejriwal founded the AAP to enter politics.
Mr Kejriwal had deputed his aide, Gopal Rai, to represent the AAP at Anna's fast. While on stage with Anna, General VK Singh did not name the AAP but implied it has betrayed Anna by exploiting his image for political gain. When Mr Rai protested, a verbal volley followed. Anna then asked Mr Rai to leave the venue.
"Someone who is ingratiating himself with (Narendra) Modi to get a BJP ticket should not give us advice," said Mr Rai referring to General Singh who was seen with the BJP's prime ministerial candidate Narendra Modi at a rally in Haryana a few months ago.
The government's sudden focus on the Lokpal Bill is being attributed to Anna's fast, and to the stunning debut by the AAP in the recent Delhi elections. It won 40% of the constituencies by promising clean governance and a commitment to fighting corruption.