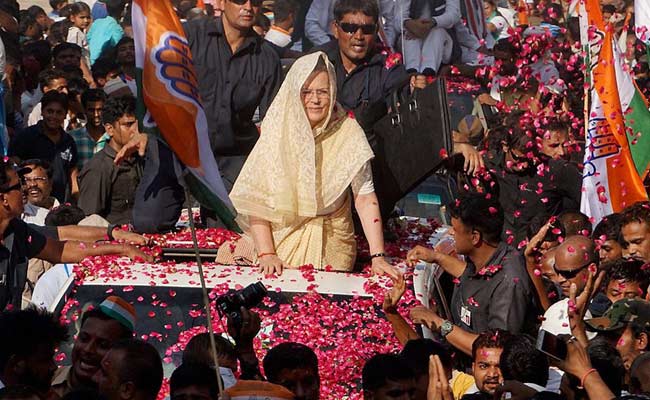 Highlights
Sonia Gandhi had to cut short roadshow in Varanasi
Hospitalized in Delhi, remains under observation
Dehydrated but stable, say doctors attending to her
New Delhi:
After Sonia Gandhi was unable to complete her roadshow in Varanasi, she was flown home to Delhi on a chartered plane from Prime Minister Narendra Modi's constituency. During the flight, the Congress president's health worsened, said sources, and the doctors accompanying her decided to hospitalize her straight away.
Mrs Gandhi, 69, spent the night at the army hospital in Delhi and was moved today to Ganga Ram Hospital, which in a statement explained, "She is dehydrated but is presently stable and her further investigations are being conducted."
Mrs Gandhi, Congress sources said, reported unwell with fever to Varanasi, where her drive-through was meant to demonstrate her party's willingness to confront the PM for the upcoming state election in the city he won so decisively in 2014.
Drawing large crowds in Muslim neighbourhoods, Mrs Gandhi's convoy crawled through the streets with unexpected stops made for quick resting periods. After she had completed seven of the eight kilometre route planned for the event, the party announced she would not continue.
The Prime Minister inquired about her health on Twitter and the Congress party later tweeted its thanks for his concern.
Sources say Mrs Gandhi's condition last night included high fever, dehydration and vomiting. At the Varanasi airport, she was put on a drip. An air ambulance was reportedly to be summoned to fly her to Delhi, but after she said she was feeling better, she was placed on the chartered plane.
"She was unwell, it must be the strain," said her daughter Priyanka Gandhi Vadra, whose older brother, Rahul, is No 2 in the Congress.
The Congress has not been elected in Uttar Pradesh for the last 27 years. In the last state election, it placed fourth. In the general election of 2014, it won only two seats - those held by Sonia and Rahul Gandhi. In a marked departure from its conventional strategy, this time around, it has announced both its Chief Ministerial candidate (Sheila Dikshit) and launched its campaign ahead of the other main players.
Mrs Gandhi's roadshow on PM Modi's home ground was held not just to marshal public support but to galvanize demoralized party workers, whose effort is key in the campaign for the massive state.