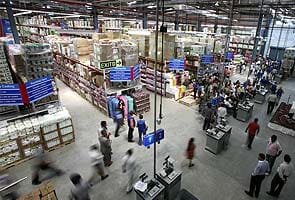 New Delhi:
The Supreme Court asked the government today if its decision to allow foreign super-chains into the country is more than "a political gimmick."
The court asked the government to explain in three weeks how it plans to protect the interests of small traders after international retail giants like Wal-Mart start selling directly to the Indian customer.
"Has the policy brought some investment in the country or is it just a political gimmick. Has the policy brought some fruits?" the judges asked today, while hearing a Public Interest Litigation (PIL) that challenges the liberalisation of the vast retail sector. The judges indicated that a regulatory mechanism is needed to protect mom and pop stores.
In September last year, the Prime Minister's decision to allow 51% Foreign Direct Investment or FDI in multi-brand retail left his government in a minority, with his biggest ally Mamata Banerjee pulling her Trinamool Congress from the fragile coalition. Ms Banerjee said the flagship economic reform was "anti-people." Virtually every opposition party has said the new policy will rob thousands of small traders of their livelihoods.
At a recent Congress conclave in Jaipur, intended as a brain-storming session for the party to prep for the general election next year, Congress president Sonia Gandhi emphatically supported the need for more reforms.
Attorney General GE Vahanvati suggested that the court could be encroaching upon the government's turf by questioning legislation, but the judges said "Any policy is not sacrosanct and it must be within the constitutional parameters. We are not policy makers and we cannot substitute government policy but we will see that it is reasonable and within the constitutional framework," the bench said.