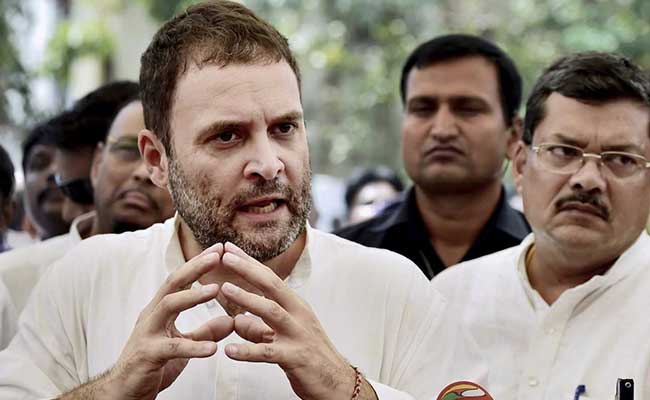 Highlights
Sandeep Dikshit putdown by Rahul Gandhi for his comments on Army chief
Mr Dikshit likened General Bipin Rawat to a 'goon'; later apologized
He was referring to Gen Rawat's defense of Kashmir 'human shield' episode
New Delhi:
For likening the army chief to a "
goonda
" or goon, Congress leader Sandeep Dikshit received a public reprimand today from Rahul Gandhi. "The army chief is the leader of the Indian Army, he is serving the country, and no political leader needs to comment about him," the Congress vice president said to reporters in Bengaluru.
His putdown came hours after the government ripped into Mr Dikshit and demanded that Congress president Sonia Gandhi apologise for his comments.
But Mr Gandhi's statement was found "inadequate" by the BJP. "The statement that the army chief shouldn't be commented upon is inadequate compared to the magnitude of sin his party committed," said the BJP's GVL Narasimha Rao.
Mr Dikshit, a former Congress lawmaker and the son of former Delhi Chief Minister Sheila Dikshit, has apologized after using the words "Sadak ka goonda (street goon)" for Army Chief Bipin Rawat.
"Ours is not a mafia Army like Pakistani army which makes statements like goons on the street. It looks bad when our Army chief gives a statement like a sadak ka goonda," Mr Dikshit had said. The comment made to a journalist generated fierce criticism. The Congress leader was apparently referring to
General Rawat's statement
defending an army officer who strapped a civilian to the front of his jeep as a "human shield" against stone-throwing protesters in the Kashmir Valley.
Last evening Mr Dikshit amended: "I believed that the Indian army chief was making statements in the past few days that I believe does not behove the gentlemanly character of the Indian army. It was a comment on the chief and not the army... I think what I said was wrong so I apologise for it and withdraw my statements."
The apology failed to impress the ruling BJP.
"We condemn it and demand that the Congress leadership, especially Sonia Gandhi, come out and disown the leaders who are continuously insulting the army. They must apologise," said Union Minister Nirmala Sitaraman, questioning whether it was a "Congress strategy to undermine the army's confidence".
The minister added, "They shame and demoralise their own army. The kind of words...the latest bout of words shocks me and my party...These are coming from eminent leaders of the (Congress) party, a party which governed us for the last 60 years."