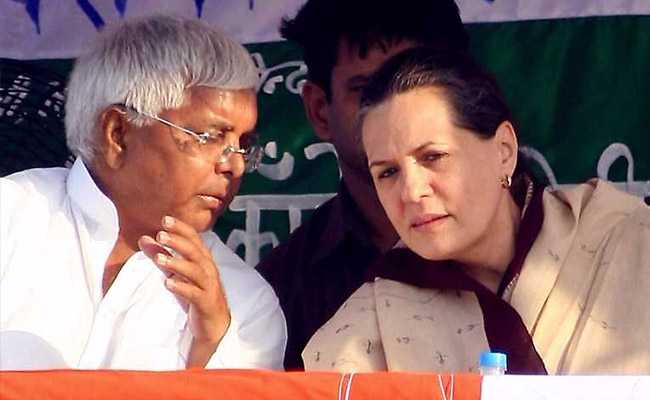 Highlights
Lalu Yadav's Sunday rally designed to show off opposition unity
Congress pivots the anti-BJP front of different parties
Sonia and Rahul Gandhi will not attend the rally, Mayawati out too
Patna:
Lalu Yadav's rally in Patna on Sunday
, designed to parade a formidable grouping of opposition leaders, may instead serve as an example of the collaborative challenges of nearly 15 different parties. Several opposition A-listers have said they won't make it, after all - today, the Gandhis added themselves to that list.
"I'm confident that the Congress' support is with us," said Lalu Yadav to NDTV Wednesday after receiving news of the Gandhis' RSVP.
As NDTV.com reported last night
, the Congress in Bihar was worried that the presence of either of its top two leaders would do the party more harm than good. The party is meant to serve as the chassis of the united opposition league that hopes to combine against Prime Minister Narendra Modi to prevent his re-election; but Lalu Yadav and his children are woven into a matrix of corruption cases right now, and the prospect of either Sonia or Rahul Gandhi getting top billing at an event hosted by him had some in the party breaking into a cold sweat.
The Congress said today that neither Sonia Gandhi, who is party chief, nor her son Rahul Gandhi, who is Vice President, will appear at the rally which will target PM Modi and his policies. Instead, the party said, Ghulam Nabi Azad, a senior leader, will read out a statement for the occasion on Sonia Gandhi's behalf.
Ashok Choudhary, who heads the Congress in Bihar, said, "The party high command has taken a decision so we have nothing more to add. But this is a rally by Lalu's party, so there really isn't much for us to contribute apart from our leaders' attendance."
The Congress had earlier indicated that it would be represented by Rahul Gandhi in Patna. Lalu Yadav is a long-time supporter of Sonia Gandhi, but his relationship with her son has been less amicable. In 2013, when the Congress-led government was ready to introduce an ordinance to protect Lalu Yadav, then newly convicted in one of several cases of corruption, Rahul Gandhi publicly tore up the executive order that would have sidelined Supreme Court rules and allowed the Bihar heavyweight to remain an MP despite his conviction.
The Congress also reportedly factored in the downside of Rahul Gandhi sharing the stage with Lalu Yadav at a time when he is being prepped to finally take over from his mother as Congress chief.
With the Gandhis declining the invite for the Patna rally, the opposition's vulnerability in working as an effective, anti-BJP machine is once again on fleek -and well before it has recovered from the departure of Nitish Kumar, Bihar Chief Minister, who helped forge the combine only to exit it last month for a renewal of vows with the BJP, with whom he now runs Bihar. Sharad Pawar, seen as another contender for switching sides, has not yet confirmed whether his party will show up. And Uttar Pradesh leader Mayawati, whose membership will be key to any attempt to curbing the BJP's reach in the prized state of Uttar Pradesh, will not be present - a senior leader from her party will do the honours.