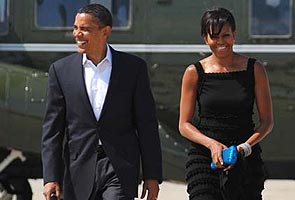 Washington:
Barack Obama, who became the first US president to personally celebrate Diwali in the historic East Room in 2009, wanted to "specifically" celebrate the festival of lights with Indians, the White House has said.
"He (Obama) specifically wanted to have an opportunity to celebrate Diwali and to do so with the Indian people, getting beyond simply his official business," Jeff Bader, Senior Director for Asia Affairs at the National Security Council, White House, said.
Bader and other top US officials were responding to questions at "Tuesday Talks at the White House", a live web cast from the White House on the forthcoming 10-day Asia trip of the US President.
Commencing his four-day trip to India, Obama arrives along with First Lady Michelle Obama in Mumbai on November 6, a day after Diwali, and are scheduled to visit a school in the city on the following day.
At that school, he will participate in a Diwali celebration, which includes lighting a lantern. And then the President will have an opportunity to watch some schoolchildren perform a cultural dance associated with it, Bader said.
(Watch the school that Obama will visit)
"So he'll have the opportunity to celebrate Diwali with these schoolchildren in Mumbai specifically, and with the Indian people more broadly," the official said.
"Last year we were very excited to host the Diwali event, a celebration here at the White House, underscoring again the importance of the festival as a wonderful holiday," he said, referring to last year's Diwali celebrations here.