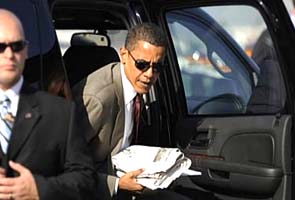 Washington:
The costs of US President Barack Obama's upcoming trip to India has been criticised by a Republican leader as "over-the-top" spending but the White House said the figures cited by the lawmaker have "no basis" in reality."
When asked whether she would support cuts to Social Security and Medicare, Representative Michele Bachmann, a Republican from Minnesota fresh off a victory in her closely watched re-election bid, slammed the White House for the "massive overspending" for Obama's maiden visit to India.
She however refused to identify specific cuts to the federal budget when asked by CNN. Obama's three-day trip starts from Mumbai where he will arrive on Saturday before proceeding to New Delhi the next day.
A top official of the Maharashtra government privy to the arrangements for the high-profile visit has reckoned that a whopping $ 200 million (Rs 900 crore approx) per day would be spent by various teams coming from the US in connection with Obama's two-day stay in the city.
"A huge amount of around $ 200 million would be spent on security, stay and other aspects of the Presidential visit," the official said in Mumbai.
About 3,000 people including Secret Service agents, US government officials and journalists would accompany the President. Several officials from the White House and US security agencies are already in Mumbai for the past one week with helicopters, a ship and high-end security instruments.
Unprecedented security has been put in place both in Mumbai and New Delhi.
"We have never seen this sort of an entourage going with the president before. And I think this is an example the massive overspending that we've seen--not only just in the last two years, really in the last four," Bachmann said.
Asked for comment about Bachmanns criticism of the trip, the White House said in a written statement that the figures cited by the Republican lawmaker "have no basis in reality."
"Due to security concerns, we are unable to outline details associated with security procedures and costs, but it's safe to say these numbers are wildly inflated," White House spokesperson Amy Brundage said.
Bachmanns comments come on the same day she formally announced her bid to join the House Republican leadership and become the chair of the House Republican Conference in the next Congress. She already has at least one rival for job.
Rep. Jeb Hensarling, R-Texas, is also seeking the number four spot in the GOPs House leadership. Hensarling has already been endorsed by two powerful House Republican leaders.