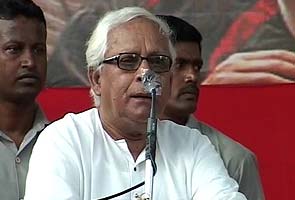 Kolkata:
The Trinamool Congress on Wednesday slapped a legal notice on former West Bengal chief minister Buddhadeb Bhattacharjee and demanded an apology from him for questioning his successor Mamata Banerjee's honesty.
The notice, sent by lawyer Rajdeep Mazumdar following the directive of the party's all India general secretary Mukul Roy, asked Mr Bhattacharjee to apologise publicly within 48 hours for his remarks against the Trinamool chief, failing which the party would start legal proceedings against him in both civil and criminal courts.
Raising questions about Ms Banerjee being projected as a "symbol of honesty" by the Trinamool, CPI-M politburo member Mr Bhattacharjee on Tuesday asked the media to probe her family's financial situation after she came to power.
On Wednesday, Trinamool leader and Urban Development Minister Firhad Hakim slammed Mr Bhattacharjee.
"Nobody in Indian politics can question Mamata Banerjee's honesty. Workers of the Trinamool Congress believe her. The people of the state believe her. Buddhadeb should come to his senses. When that happens, he will admit his mistake and apologise to Banerjee," Mr Hakim said.
"Bhattacharjee left (former chief minister) Jyoti Basu's ministry in the 1990s. His daughter said he would not continue in a ministry of thieves. But he rejoined the cabinet in a couple of years lured by its office," he said.
Mr Hakim then referred to the Left Front's defeat in the 2011 assembly polls.
"Bhattacharjee was rejected by the people of the state. Even people of his constituency rejected him. He has no moral right to make such allegations against a person of integrity like Banerjee, who is a real mass leader," Hakim said.
"We condemn his statement. Mamata Banerjee has faith in the people. We leave the matter to the people who will give a befitting reply (to Bhattacharjee)," he said.
Lashing out at Mr Bhattacharjee, who had during a TV interview gave Ms Banerjee a "zero" for her performance, Mr Hakim said: "When West Bengal is on the fast track to development, peace and progress, he is giving a zero to the government. Bhattacharjee himself is a big zero. Can you name one industrial venture which succeeded during his tenure? In contrast, he left the state with 55,000 closed factories".
Asked to comment in an interview with Bengali TV channel Chobbis Ghanta on Trinamool projecting Ms Banerjee as a symbol of honesty, Mr Bhattacharjee replied: "I'm unable to agree".
Pressed further, he said: "You conduct a probe into her family condition now as compared to what it was earlier. According to my yardstick, she does not pass the yardstick of honesty."
"I can't accept her as being honest. This is no secret. A lot of people close to her know this and they have started talking about it," he said.
Asked if he could provide details, Mr Bhattacharjee said: "I'm not a drain inspector. You can probe it if you want to. Many know what people close to her are doing. Everything will come out easily if there is an investigation."
On Mr Bhattacharjee's reference to Ms Banerjee's family, Mr Hakim said: "Every individual has the right to earn. Nobody can question this. For example, I am in politics, but my brother may not be in politics. He can pursue his own calling."
"The income tax and other government institutions are there to look into what people possess. No individual can conduct an inquiry," he said.