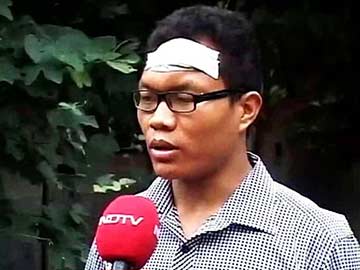 Bangalore:
An engineering student from the northeastern state of Manipur was attacked in Bangalore last night by men who allegedly demanded that he "speak in the Kannada language or get out".
Michael Lamjathang Haokip, who heads a Manipur students' body, alleges that he and his friends were eating at a roadside stall when three men threatened and later attacked them.
"They said you are eating Karnataka food, living in Karnataka. If you don't speak Kannada please get out. We ignored them, but they took it as an insult. They picked up stones and attacked us and I got injured," Michael told NDTV, showing a bandaged head and blood-splattered clothes.
The 26-year-old, however, sees it as an isolated case, not enough to drive him out of the IT city. "I don't want to exaggerate anything. I feel safe, no problem. But I would like to appeal to people in general. Whenever such incidents happen, instead of moving away from the incident they have to be involved and settle the incident," he said.
A case of assault has been registered and the three attackers, all school van drivers, have been arrested.
"We have taken it very seriously, though it is a stray incident - but this being a sensitive issue, we have taken it very seriously. We will take stringent action even if it is a minor assault or abuse or any type of verbal altercations we are going to take serious action against such people. Reassurance, that we are here to protect them," senior police officer Alok Kumar told NDTV.
The incident took place at around 7.30 p.m. in the city's Kothanur area, home to a large number of students from other parts of the country.
In 2012, students and workers from northeastern states left Bangalore in droves as rumours of attacks led to panic in the three lakh-strong community.
Boxing champion Mary Kom, who is in the city for a marathon event, expressed concern. "I don't feel good listening to such news. There should be unity and peace in our country, so that such incidents don't repeat," said the Olympic medalist.