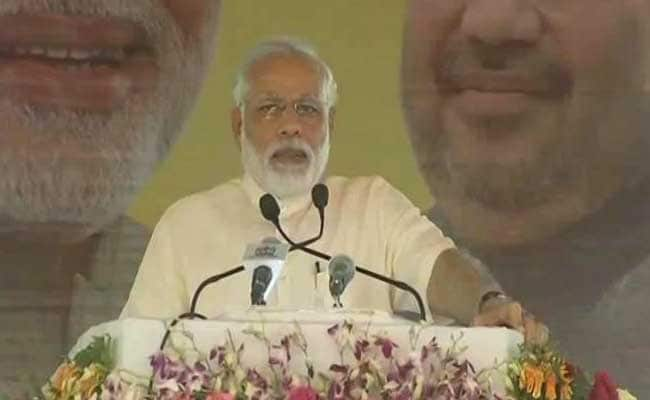 Pune:
Local leaders of all prominent political parties, except BJP, today announced that they would boycott the inauguration event of 'Smart Cities Mission' project by the Prime Minister in Pune today.
Reacting to the development, Maharashtra Chief Minister Devendra Fadnavis late this evening asked Pune Mayor to attend the programme.
Prime Minister Narendra Modi is scheduled to inaugurate the 'Smart Cities Mission' project at the Shiv Chhatrapati Sports Complex at Balewadi.
However, local leaders of NCP, Congress, Shiv Sena and MNS on Friday accused the BJP of hijacking the programme and slammed the Centre for "not following protocol". The parties announced that they would boycott the event.
The NCP, which is ruling the Pune Municipal Corporation (PMC), said since the programme invitation cards do not even bear the name of city civic body or Mayor, its party leaders, including Mayor Prashant Jagtap, would not attend the event to protest the "insult".
Congress also announced that it would protest outside the venue to "condemn the high-handedness of organisers and BJP leadership".
Senior NCP leader and spokesman Ankush Kakade said, "The entire programme has been hijacked by BJP and Union Government as they have not even followed the basic protocol of mentioning the name of city Mayor on the invitation cards for the event."
"The invitation cards neither bear the mention of PMC nor the name of Mayor. It is an insult of Pune city and that is why we are not going to attend the program and will boycott it," he said.
Mayor Prashant Jagtap said the invitation was given to him at the last moment and the permission to welcome PM at the airport as a first citizen of the city, too, was denied.
"It clearly shows that BJP and the Centre are giving secondary treatment to PMC, whose machinery has been working for the event. I won't attend the event," the Mayor said.
Similarly, Shiv Sena, which is at loggerheads with BJP following BJP spokesperson Madhav Bhandari's comparison of Shiv Sena chief Uddhav Thackeray with the character of Asrani in "Sholay", said that that the party would stay away from the event.
"We are going to boycott the event tomorrow and no party office-bearer will attend it," Shiv Sena city unit president Vinayak Nimhan said.