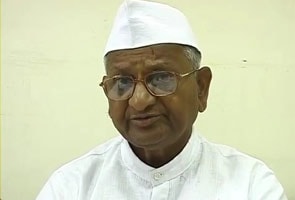 Aurangabad:
Sachin Tendulkar's nomination to the Rajya Sabha has left many across the country wondering if this is the correct move for a man hero-worshipped for his incredible cricket. And the latest to join the debate is social activist Anna Hazare.
The 73-year-old Gandhian said he was left puzzled when he heard of Sachin's nomination to the Rajya Sabha. He added that according to him, it would have been more appropriate to confer upon the icon the nation's highest civilian honour - the Bharat Ratna. "I don't understand what is going on...Why not give him Bharat Ratna then, there was no need to send him to the Rajya Sabha," he told reporters at a press meeting in Aurangabad when asked for his comments. Mr Hazare is on five-week state-wide tour to campaign for a stronger Lokayukta in Maharashtra.
Sachin has been nominated as an MP by the government along with actor Rekha and industrialist-activist Anu Aga; their nominations have been cleared by President Pratibha Patil.
In March, Sachin became the only cricketer to get a hundred centuries in international cricket. Given his busy cricket schedule, many have questioned whether he will have the time or inclination to be an active MP.
Politicians who are not from the Congress, as well as analysts, have said that by accepting the government's nomination, Sachin will be seen as aligned with the Congress. This, they argue, could dent his standing as a man who has been careful to avoid any public affiliation with a political party. "It is Sachin's and the Congress' personal matter. But I feel more than a seat, he should be given a Bharat Ratna," said BJP leader Gopinath Munde.
In 2009, Sachin took on two political parties - the Shiv Sena, which is headed by Bal Thackeray, and the Maharashtra Navnirman Sena, launched by Mr Thackeray's estranged nephew, Raj. Both parties were pushing a strong anti-immigrant campaign in an attempt to woo voters in Maharashtra. "Mumbai belongs to India. That is how I look at it. And I am a Maharashtrian and I am extremely proud of that but I am an Indian first," Sachin had said.