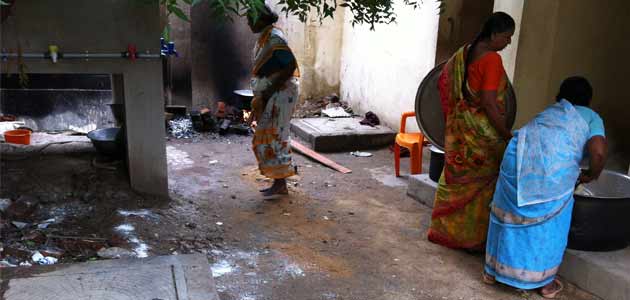 Chennai:
Food for schoolchildren cooked right next to toilets - a mid-day meal horror story from Tamil Nadu days after 23 children died in Bihar after being served lunch infected with insecticide in a government-run school. (
Watch
)
At a government school at Vyasarpadi in Chennai, NDTV saw food being cooked next to student toilets, on top of a septic tank lid. Shockingly, this meal is part of the state's much-praised noon meal scheme for schools.
A vessel of cooked rice was kept on the septic tank which even had an open outlet. The makeshift kitchen was near a toilet block lined by filth and garbage. The cooks thought nothing of sitting on the septic tank slab to peel boiled eggs.
"We are cooking here today as we don't have helpers and cooking gas. We usually prepare lunch inside the kitchen," one of the cooks claimed. But school officials say the kitchen has had no cooking gas for months.
The Bihar school deaths still on their mind, many students and teachers are worried, but often it's not a choice for children from poorer families. The school has over 1,000 students, of which 300 have opted for the noon meal.
"They prepare food close to toilets, won't germs spread to the food?" a girl wondered. But her classmate said: "The food is nutritious, a good mix of carbohydrates and protein. I love the egg that's served here. Without this free meal I wouldn't be able to come to school".
A member of the faculty told NDTV: "These are poor children whose parents are mostly labourers. Without the noon meal scheme they would have to go hungry".
India's free mid-day meal scheme, the largest free food programme in the world catering to around 120 million schoolchildren across the country, was introduced as an incentive for children to go to school.
But since Bihar's tragic deaths on Tuesday, more and more shockers are emerging from other parts of the country, forcing governments to order strict checks on hygiene standards. On Thursday, 170 children fell ill after lunch at a school in Neyveli, in Tamilnadu's Cuddalore district.