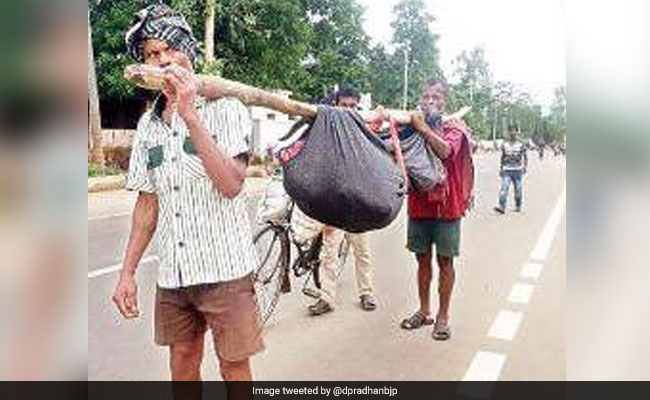 Berhampur, Odisha:
Family members of an 80-year-old woman, who were unable to get a hearse, were on Wednesday forced to carry her body on their shoulders from a hospital at Sorada in Odisha's Ganjam district.
The body, tied in cloth and slung to a piece of bamboo, was carried by her family members to their village at Sorishabili, about two km from the hospital, sources said.
Sources at Sorada health centre said Bhanumati Nayak was admitted to the hospital on Tuesday and she died yesterday.
The medical officer at Sorada health centre, Dilip Nayak, said the woman's relatives were asked to wait for the 'Mahaprayana' van, the government-sponsored hearse, to carry the body.
"However, they took the body without intimating us," he said.
The chief district medical officer (CDMO) of Ganjam, Saroj Bandhu Mohapatra, said he has asked the medical officer of Baragarh Community Health Centre, Biren Nayak, to inquire into the incident and submit a report.
Protesting at the non-availability of hearse, BJP supporters staged a road blockade at Sorada for some time.
Local BJP activists alleged that the episode was an instance of failure of 'Mahaprayan' scheme meant for providing vehicles to carry bodies from hospitals.
The incident is reminiscent of the trails of
Dana Majhi, a tribal man who walked 10-km carrying his wife's body on his shoulder
in Odisha's Kalahandi district in August 2016 after being allegedly denied a hearse by the district hospital.
The incident had triggered a country-wide uproar.