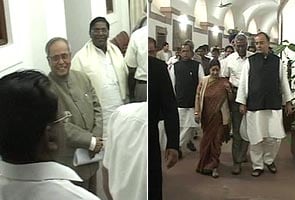 New Delhi:
A lunch meeting called by Finance Minister Pranab Mukherjee has ended without any solution to the impasse in Parliament over the 2G spectrum scam.
Parliament has not functioned for a single day this winter session- the Opposition says it will not allow any work to begin till the government sanctions a Joint Parliamentary Committee (JPC) to investigate the 2G scam. The Opposition contends that a CBI inquiry already underway cannot be taken seriously because the CBI functions as an extension of the government which uses it to protect allies and settle scores with political rivals.
The government has stressed that a JPC is not required because a thorough audit of the 2G allocation will be studied by the Public Accounts Committee which is headed by a leader of the Opposition, and will therefore not protect the government.
The report by the Comptroller and Auditor General (CAG) has been tabled in parliament. It was leaked to the media last week and forced the resignation of A Raja as Telecom Minister on Sunday night.