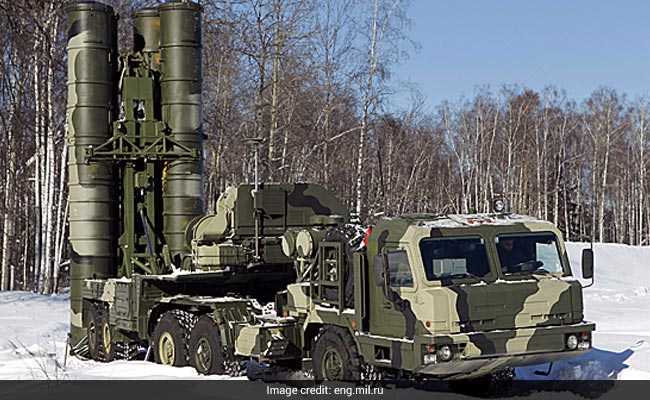 Washington:
The Trump Administration continues to have conversations with India on its mega military deal to purchase S-400 missile defence system from Russia, a senior US official said, noting that no decision has been made yet on American sanctions if New Delhi goes ahead with the plan.
India is planning to buy five S-400 Triumf missile air defence systems from Russia for around $4.5 billion. The purchase will violate sanctions under the Countering America's Adversaries Through Sanctions Act (CAATSA) instituted by Congress on arms purchases from Russia, but lawmakers have allowed the possibility of a presidential waiver.
"We continue to have conversations with the Indian leadership on ways that we are working to hold Russia accountable for its behaviour," Principal Deputy Assistant Secretary of State for South and Central Asia Alice Wells told reporters during a conference call Monday.
Responding to a question on the possibility of sanctions on India if New Delhi buys S-400 from Russia or if there would be a waiver, Ms Wells said the current American sanctions are not intended to adversely impact countries like India.
"They are designed to impact Russia," she argued.
"We are working through the implications of CAATSA and the significance that we attach to CAATSA," she said.
Ms Wells reiterated that there is no blanket waiver or country specific waivers on S-400.
"The authority that was granted by Congress allows the President to make a determination. Those determinations will be made on an individual basis," she said.
"I think there's a great understanding of the legacy of India's military, defence cooperation relationship with Russia. The focus and the conversations are really on the kinds of a defence acquisition that would shape India's strategic relations over the next generation and what impact that has on interoperability and the ability to continue to deepen its partnership with US and others," Ms Wells said.
On Iran, Wells said there's been an expert level discussion between the two countries on issues related to the crude oil exports from Tehran or ways to bring those exports down in order to counter the malign behaviour by Iran in the region. "Those conversations are ongoing," she said.
The US has told India and other countries to cut oil imports from Iran to "zero" by November 4 or face sanctions, making it clear that there would be no waivers to anyone.
Iran is India's third-largest oil supplier behind Iraq and Saudi Arabia. Iran supplied 18.4 million tonnes of crude oil during April 2017 and January 2018 (first 10 months of 2017-18 fiscal).
Wells said there was in general discussion on Iran sanctions and that the administration's goal is to hold Tehran accountable for the malign behaviour seen in the region.
"We are looking to countries to bring the crude oil imports down to zero as quickly as possible. We are working very hard with our partners to ensure that there's no disruption to the market, that there is adequate supplies available to substitute for Iranian oil exports," Ms Wells said.
With respect to the Chabahar port, the US has heard the Indian Government describe the rationale for developing this port as a means of providing access to Afghanistan as a means for delivering supplies for instance and opening up North South trade to Central Asia, she said.
US officials were clear that they were still in the process of reviewing the implementation of the sanctions and that they were taking this under advisement. "So it was an informational conversation between the (two) parties," she said.
Responding to a question, she said that "there wasn't specific conversation" on aluminum and steel, during the 2+2 Dialogue.
"There is acknowledgement that the US is India's best trading partner. We're certainly India's top markets for exports. Bilateral trade expanded $12 billion in 2017 and now totals USD 126 billion and two-way investment expanded almost $57 billion," she said.
So, the conversation between the leaderships of the two countries was how they grow their trade relationship in a fair and reciprocal manner, she said.
"Tariffs and non-tariff barriers have been the subject of long standing concern. But we're working with the government of India to address these market access challenge issues.
"We have a variety of ongoing high-level discussions that are taking up these issues. Specifically, what I heard out of the 2+2 is a commitment by our leadership to the importance of resolving this (issue) and coming out as a fair agreement that meets the needs of both the US and India, the private sector as well as people," Ms Wells said.