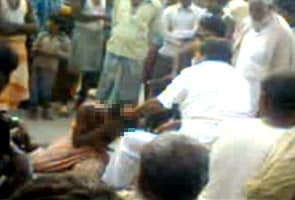 Vaishali, Bihar:
A politician's brutality was caught on a mobile phone camera in Bihar's Vaishali district on Monday evening. The attacker, Shambhu Saran Yadav, was a member of Chief Minister Nitish Kumar's JD(U).
Yadav thrashed 16-year-old Rajesh Mahato mercilessly accusing him of a rape attempt. But the teenager says all he did was question corruption in the local housing scheme, which rattled Yadav and his wife, the village chief.
"My father had given Rs 10,000 to Shagun Lal Sharma. He told me to take money from Sangeeta Devi, so I went there. I was threatened by them. They came to my place and woke me up and took me on the road and beat me up," said Rajesh Mahto, victim.
Acting swiftly, Nitish Kumar ordered strict action against his party member. But at the police station today, Shambhu Yadav s surrender was a story in itself.
More than 500 supporters accompanied Yadav, as he surrendered and was subsequently arrested. Later, Yadav was also expelled from the JD(U).
But far from showing any remorse, Yadav brazenly defended his action.
"The villagers wanted to kill the boy as he is accused of molesting a girl. I tried to save him by beating him up and letting him go," said Shambhu Saran Yadav, ex JD(U) leader.
When Nitish Kumar came to power, he promised the people of Bihar some relief from the mindless violence that had become common in previous regimes perhaps, the reason why today, the Chief Minister lost no time in stepping in to control the damage.