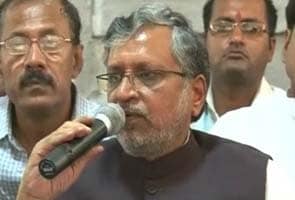 Patna:
In Bihar, it has often fallen upon BJP leader and Deputy Chief Minister Sushil Kumar Modi to iron out the kinks between his party and Nitish Kumar, who heads the government.
Today, Mr Modi abandoned the role of peace-maker to lash out at his boss, whose attacks on Gujarat Chief Minister Narendra Modi have rattled the BJP.
"Unfortunate and objectionable" was how the Deputy Chief Minister described the remarks against Narendra Modi that were made over a weekend at a meeting of senior leaders of Mr Kumar's party, the Janata Dal (United) or JD(U).
Mr Kumar in a televised speech there, did not name his counterpart in Gujarat, but made it clear that if the BJP picks Narendra Modi as its prime ministerial nominee, he will end his alliance with the BJP.
His deputy today said Bihar leaders will meet with BJP president Rajnath Singh on Thursday to discuss the political developments in their state.
Since his third re-election in December, Narendra Modi has emerged as the front-runner for the BJP's prime ministerial candidate.
The JD(U) says that because the communal riots of Gujarat in 2002 took place when Mr Modi was in charge of the state, he lacks 'secular credentials.'
As Deputy Chief Minister, Mr Modi has often offered Mr Kumar tacit support when he has clashed with the BJP over issues like how much room should be made in Bihar to promote Narendra Modi among voters.
But with Narendra Modi striding into the role of BJP favourite, and the alliance with the JD(U) showing all the signs of the beginning of the end, Mr Modi is being forced to re-evaluate his stand, say sources.
Recently, the Deputy Chief Minister said that he has worked closely with Narendra Modi for 30 years, a sign of his increasing support for the Gujarat leader.