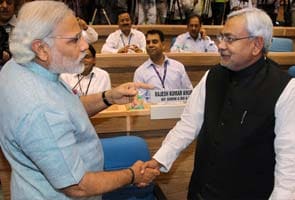 Ahmedabad:
In the elections in Gujarat, the BJP will find itself in competition in 100 seats against its own ally, Nitish Kumar's party, the Janata Dal United or JD(U).
"There are some districts where we will contest on our own," said the JD(U)'s Sharad Yadav, in what will be seized by many as the latest installment of tension in an increasingly-unsteady partnership. In the last elections in Gujarat, the JD(U) contested 30 seats. This time, it will put up its own candidates in 100 constituencies. Mr Kumar dodged questions today about whether he will campaign in Gujarat, a move that would pit him against his counterpart there, chief minister Narendra Modi.
In Bihar, Mr Kumar runs the government with the BJP, but his thinly-veiled opposition to Mr Modi has been peaking lately amid discussions about the next general election. Mr Modi, who is up for re-election soon, has prime ministerial ambitions and is often seen as one of the most popular leaders of the BJP. In a series of interviews, Mr Kumar has said that his party will not support any candidate for PM who does not have secular values.
In the last state and general elections in Bihar, Mr Kumar made it clear to the BJP that Mr Modi could not be brought in for rallies and campaigns. 18% of Bihar's population is Muslim, a vote-bank loyal to Mr Kumar.
The BJP has vacillated between talking tough with Mr Kumar, and suggesting that his opinion will be taken into account before the party decides on its choice for Prime Minister. While some leaders have said Mr Kumar's advise and assessment of secularism is not needed, BJP president Nitin Gadkari told NDTV recently that the party has not yet decided on its nominee for Prime Minister.
Over the weekend, the Shiv Sena, one of the BJP's oldest allies, said it favours the BJP's Sushma Swaraj for Prime Minister, a surprise announcement that is likely to add to the much-discussed infighting within the BJP's senior ranks.