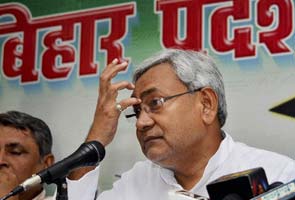 Patna:
Chief Minister Nitish Kumar has decided to cut local taxes in Bihar to make diesel prices 85 paise cheaper. Last week, in an attempt to reduce fuel subsidies, the centre increased the price of diesel by Rs 5, excluding Value-Added Tax (VAT). The price hike was part of a series of big-bang reforms that included limiting the supply of subsidised cooking gas to households and opening up the retail sector to foreign super-market chains like Wal-Mart.
West Bengal Chief Minister Mamata Banerjee has quit the PM's coalition over these economic measures, citing them as "anti-people" policies. Sources in the Congress say the government is leaning towards a 50-paise rollback in diesel prices, and increasing subsidised gas cylinders from six to nine per household. The party has also suggested that Ms Banerjee could drop state taxes to lower the price of diesel. She has angrily rejected that option on the grounds that her state is broke.
Diesel prices had shot upto Rs 50.80 per litre in Bihar. With the discount he has thrown in today, Mr Kumar has stolen the centre's thunder should it decided to drop prices soon. The chief minister is on a tour of the state to highlight his campaign to get "special status" for Bihar, a petition rejected by the centre earlier this year. His decision to make diesel cheaper will be used at rallies to claim that his government intervenes when the centre ignores the needs of the aam admi or common man. Due to the VAT reduction, the total loss to state exchequer will be Rs 118 crore.
Without Ms Banerjee, the UPA is in a minority. Mr Kumar belongs to the opposing coalition, the NDA, which is led by his partner in Bihar, the BJP. Yesterday, he declared that his support in the next general election will extend to whoever promises "special status" for Bihar, which would make it eligible for special financial packages from the centre along with assistance in attracting private investment. The chief minister, who has 22 of Bihar's 40 Lok Sabha seats, said Bihar will be a major player in deciding who comes to power next in Delhi. Mr Kumar's remarks - which suggested he is up for grabs - shook up the BJP, which insists that he remains anti-Congress. But if Mr Kumar is open to wooing, the Congress has shown it's interested. "Several states including UP, Bihar need special packages, so we will have to discuss," Congress General Secretary Digvijaya Singh told NDTV.