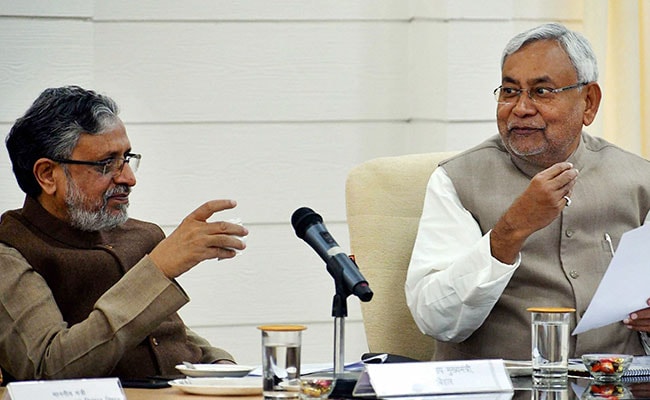 Highlights
Nitish Kumar said Bihar's ruling front practices "collective leadership"
Mr Kumar universally seen as boss of Bihar's ruling alliance
In Bihar by-elections next month, BJP may contest two seats
Patna:
Chief Minister Nitish Kumar is universally seen as the boss of Bihar's ruling alliance, which includes the BJP and two small regional parties. He thus caused somewhat of a stir today when he said he does not lead the alliance in the state.
"Don't be under an illusion that I'm heading the alliance... I am just heading the government, but am not the leader of the alliance," Mr Kumar said when asked about demands made recently by the Hindustan Awam Morcha of former Chief Minister Jitan Ram Manjhi and Upendra Khushwaha's RLSP.
The chief minister was quick to add that Bihar's ruling front practices "collective leadership."
In July last year,
Nitish Kumar ditched partners
Lalu Yadav's RJD and the Congress to form government in alliance with the BJP, which brought with it the two smaller allies Mr Manjhi and Mr Khushwaha, besides Ram Vilas Paswan's s Lok Jan Shakti. He also joined the BJP-led national alliance NDA. The BJP's top leader in Bihar, Sushil Kumar Modi, is Mr Kumar's deputy in the state government.
Both Mr Manjhi and Mr Khushwaha were unhappy about the BJP's decision to partner with Nitish Kumar's Janata Dal United and are said to feel threatened in the new equation. Mr Manjhi said that if his demands are not met and decisions taken during his regime are not implemented, then he's free to explore other options.
After the BJP's
defeat in by-elections in Rajasthan
recently, the two smaller partners have also been flexing muscle and demanding that they be given enough seats to contest in the next Bihar assembly elections.
That will be in 2020, and Nitish Kumar is clearly happy to let the BJP tackle their ornery allies for now. In by-elections in Bihar next month, the BJP is expected to contest the Araria parliament seat and the Bhabhua assembly seat, while both Mr Manjhi and Mr Khushwaha have staked claim to contest the Jehanabad assembly seat.
Mr Kumar is keeping out of it, refusing to even say today whether he will campaign for his allies. All three seats were vacated because the sitting lawmakers died - the Araria Lok Sabha seat was held by Mohammed Taslimuddin of the RJD, while the Bhabhua and Jehanabad assembly seats were held by BJP and RJD, respectively.