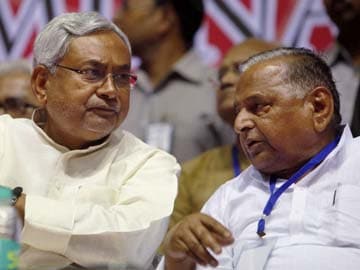 New Delhi:
With the national elections just three months away, Bihar Chief Minister Nitish Kumar and Samajwadi Party chief Mulayam Singh Yadav once again made a strong pitch for a 'third front' on Saturday.
Two days after he shared the stage with Congress president Sonia Gandhi at a ceremony in Bihar following a war of words, Mr Kumar announced that several parties will meet in Delhi on February 5 to discuss the 'third front.' According to sources, representatives from around 14 parties from all over the country will participate in the meeting.
"We are in talks. The Left took the initiative and we are supporting them. Both the Congress and the BJP will be our enemies," Mr Kumar said on Saturday in Patna.
In Lucknow, Mulayam Singh, who provides crucial outside support to the Congress-led UPA government at the Centre, also hinted at a liking for the 'third front'.
"We have already won Uttar Pradesh. Now it's time for Delhi. The Samajwadi Party will play a big role in forming the government at the Centre. Once we ruled Delhi, but the government didn't last time. We have to ensure this time the government works," Mr Yadav told his party workers as he kicked off a cycle
yatra
in Uttar Pradesh.
Earlier this week, West Bengal Chief Minister, who is likely to be another big player in the proposed 'third front' called for a non-BJP, non-Congress government in Delhi.
"In Bengal, we had said, enough is enough, we want 'parivartan'. We now also want parivartan in Delhi," Ms Banerjee said at a massive rally on Thursday. (
Read
)
"BJP is not the alternative to Congress. Congress is not the alternative to BJP. Trinamool is the only alternative in the country today," she added, triggering talks of her ambition to be the country's next prime minister.
The West Bengal Chief Minister, however, said she is not interested in the country's top post, and is "happy to play a major role but stay in the background."