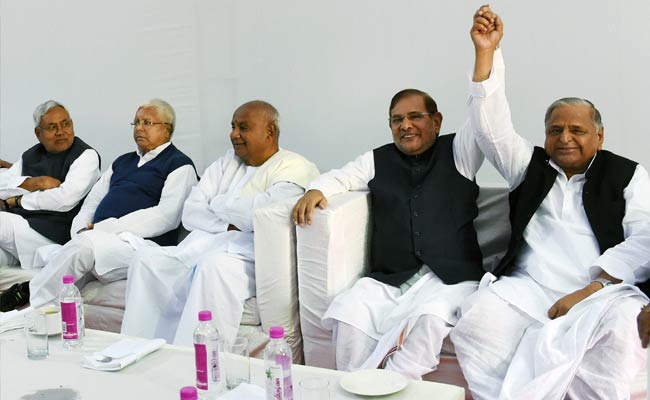 New Delhi:
With the proposed Janata Parivar alliance seen as crumbling before it is formalised, leaders of the three key parties are meeting in Delhi today.
What is being seen as a make-or-break session between Rashtriya Janata Dal chief Lalu Prasad and Bihar Chief Minister and Janata Dal United leader Nitish Kumar, is underway at the Delhi home of Samajwadi Party chief Mulayam Singh Yadav.
Tough posturing has been on for days between Mr Prasad's RJD and Mr Kumar's JD(U) over the chief minister's post ahead of the coming assembly elections in Bihar.
Hours before the meeting, Mr Kumar met Congress vice president Rahul Gandhi, whose party has indicated that it was willing to back Mr Kumar as the presumptive Chief Minister should the alliance talks fall through.
Sources in the JD(U) indicated that the decision now rests with Mr Prasad, whose party leaders had repeatedly said Mr Kumar's candidature for the top post was not acceptable to them.
Mr Prasad - who cannot run for office due to his conviction in a corruption case earlier -- has been non-committal, saying nothing will be decided without a discussion and expressing confidence that an alliance can be cobbled out to keep the BJP at bay.
But Mr Raghuvansh Prasad Singh -- who twice said his party does not favour projecting Mr Kumar as the Chief Ministerial candidate -- is a trusted aide of the RJD chief and his statements are not seen as an independent opinion.
Last week, he admitted as much to NDTV: "The big leaders, they give orders to fire. We are mere soldiers, we just carry out their orders."
Opponents for several decades, Mr Prasad and Mr Kumar had been brought together by rival BJP's massive gains in Bihar during the Lok Sabha elections. The two tested the waters during the bye-elections for 10 seats, contesting as partners along with the Congress. They won six seats.
But as they were in talks to take the alliance forward, bringing in more parties with socialist roots into the fold, matters seem to come unstuck over the top job.