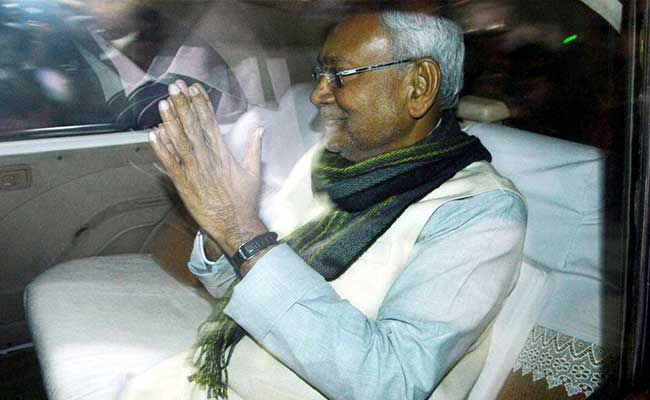 Patna:
When Mamata Banerjee phoned Bihar Chief Minister Nitish Kumar about joining her protest against the notes ban in Delhi recently, his response to her was simple. When President Pranab Mukherjee had signed off on Prime Minister Narendra Modi's move, the protest was redundant, he explained to her.
This was Mr Kumar's disclosure to a group of legislators in Patna on Tuesday evening. However, they were not members of his party but of the Rashtriya Janata Dal or RJD, headed by Lalu Yadav, who personally invited Mr Kumar to address his group.
Mr Kumar's appearance was meant to reassure Lalu's team that despite the Chief Minister's unwavering support to the Prime Minister over demonetisation, he is not about to relinquish his current allies for the BJP, with whom he split acrimoniously in 2013, ending a nearly 20-year-long partnership.
Ms Banerjee, who is the chief minister of West Bengal and is demanding the cancellation of demonetisation, arrived on Tuesday evening in Patna. She plans to hold a protest rally there on Wednesday, replicating her demonstration on Tuesday in Lucknow. Ms Banerjee is reportedly irked that unlike Uttar Pradesh Chief Minister Akhilesh Yadav, Mr Kumar did not send a cabinet minister to greet her and has made it clear that no senior leader from his party will join her protest on Wednesday.
However, at a meeting on Tuesday evening with Lalu, Ms Banerjee was told that a representative of his party will attend the event. However, sources say that neither of Lalu's sons, who are both ministers in the Bihar government, will join Ms Banerjee.
To prove his loyalty to Lalu, Mr Kumar also said at Tuesday evening's meeting that in the future, his legislators will jump to Lalu's defence if he is attacked in the state assembly by the opposition BJP. That is not what happened earlier this week, prompting a phone call of complaint from Lalu to the chief minister.