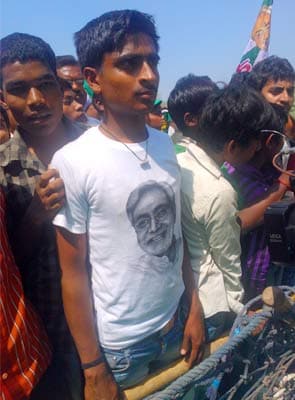 New Delhi:
Nitish Kumar has brought his fight for Bihar to Delhi. The Chief Minister is at the moment addressing a rally in the capital to demand special status for his state, further pushing the campaign for more central funds that he says are crucial for Bihar's development.
An estimated 50000 Janata Dal (United) or JD(U) activists have gathered at the Ramlila grounds for Mr Kumar's 'Adhikar' rally. They are holding flags and placards, shouting slogans and beating drums. Police are having a tough time controlling them.
The JD(U) is expected to pass a resolution at the rally on what it terms as Bihar's struggle to push for equal distribution of central resources. The resolution will say the state may take another 25 years to improve on human development indices unless it gets special status.
The rally is seen by many as Mr Kumar's show of strength as a development mascot amid the growing popularity of Gujarat Chief Minister Narendra Modi, who is being pitched by many in the BJP as the prime ministerial candidate of the National Democratic Alliance (NDA) in the 2014 general elections. The JD(U) is a key member of the NDA and Mr Kumar's opposition to Mr Modi is well known. The JD(U) has often hinted that it could reconsider its stay in the NDA if Mr Modi is declared the prime ministerial candidate.
But JD(U) chief Sharad Yadav denied any power play, saying: "A rally that is linked to the welfare of 10 crore people of Bihar cannot be called a show of strength."
N K Singh, the party's member in the Rajya Sabha, told NDTV: "This is a big day for Bihar's development initiative and for Nitish Kumar in moving away from identity-based politics to development-based politics. There is no political colour to this rally."
Traffic movement in Delhi is restricted today because of the rally. Motorists have been advised to avoid Shanti Van, Rajghat, Delhi Gate, Kamla Market, Ajmeri Gate, Minto Road and Paharganj.
Mr Kumar said yesterday that his rally is not a show of strength ahead of the Lok Sabha elections but an "attempt to get the rights" of Bihar and other backward states.
The rally comes shortly after the union government, in its Budget, proposed to change the parameters of determining the backwardness of states. This was immediately welcomed by Mr Kumar as a step towards realising the goal of special status for Bihar, and fuelled speculation on whether the JD(U) was warming up towards the Congress with an eye on the 2014 elections.
Yesterday, Mr Kumar was evasive when asked whether he will go with the UPA if his demands were accepted. "What is the basis of this question?" he shot back.